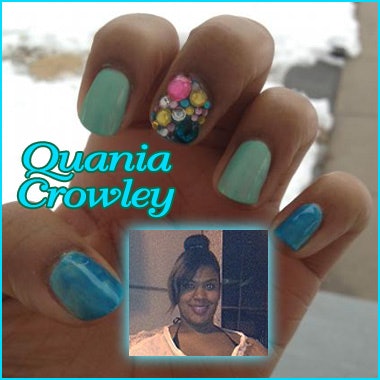 Welcome to NAILPRO's Nailed Down! where we "nail down" nail artists and technicians from our User Galleries and get to know them and their amazing work!
This week we visit Morrisville, Pennsylvania!
Meet Quania Crowley:
How would you describe yourself?
I admit I am very laid back and creative. I love to work and make people happy.
What/Who inspires your work?
There's a nail tech in Detroit who goes by QueenOfNails on Instagram. Her work and my belief in my own potential to be great is what inspires me.
Are there any tools you can't live without?
I can't live without my mannequin hands and pink polishes.
What is your favorite technique/style?
My favorite techniques are zebra stripes and rhinestones.
What tip can you offer other nail technicians?
Being that I'm a perfectionist, my tip to others would be: always remember as long as you do exceptional work that you are proud of, there is no need to stress perfection.
You can find Quania Crowley on the web:
In the NAILPRO User Gallery: Something Simple
Instagram: novacane_nails
Click here for more Nailed Down! interviews »
Would you like to be featured in NAILED DOWN? Post images of your nail art to our User Gallery. We'll be highlighting outstanding artists based on those submissions! (minimum six pictures to qualify for consideration) NAILPRO reserves the right to edit submissions for length, grammar and clarity.