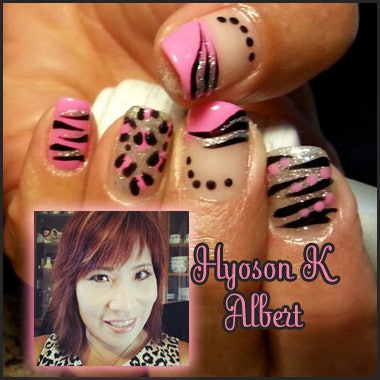 Welcome to NAILPRO's Nailed Down! where we "nail down" nail artists and technicians from our User Galleries and get to know them and their amazing work!
This week we visit St. Anne, Illinois!
Meet Hyoson K. Albert:
Where do you work?
I am the owner of Sonny's Nails.
How would you describe yourself?
I describe myself as very motivated and driven.
How did you get started in the nail industry?
How I started in the nail business, well we sold our restaurant of seven years so my husband could go to Chicago to attend school for violin making. So I decided to go Mario Tricoci in Chicago because I always liked doing nails and painting.
What/Who inspires your work?
My family is my inspiration. I am doing this for them. They have faith in me and love my work. They encourage me to keep going. I love them so much and am so thankful for a such wonderful family.
Are there any tools you can't live without?
The tool I can't live without is my cuticle pusher.
What is your craziest/funniest nail story?
My craziest nail story was when one of my clients broke one thumbnail after only six hours. It was the first time this had happened in my time being a nail technician. There was a huge chunk out of it, so obviously she'd gotten it caught by something. I offered to fix it for free, but she wouldn't come. Then she started spreading lies on Facebook to hurt me. But it didn't work because people didn't buy it! Unreal and craziest story ever.
What tip can you offer other nail technicians?
The advice I can give to nail technicians is to use good products and don't rush your work. And do your best!
You can find Hyoson K. Albert on the web:
In the NAILPRO User Gallery: Sonny's Nails
Facebook: Sonny's nails
Pinterest: Sonny's Nails
Click here for more Nailed Down! interviews »
Would you like to be featured in NAILED DOWN? Post images of your nail art to our User Gallery. We'll be highlighting outstanding artists based on those submissions! (minimum six pictures to qualify for consideration) NAILPRO reserves the right to edit submissions for length, grammar and clarity.