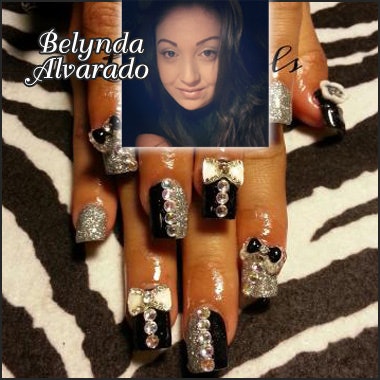 Welcome to NAILPRO's Nailed Down! where we "nail down" nail artists and technicians from our User Galleries and get to know them and their amazing work!
This week we visit Delano, California!
Meet Belynda Alvarado:
Where do you work?
I work at Bedanails.
How would you describe yourself?
I'm a mother of two beautiful daughters and a wife of a hard working husband. I love my family so much.
How did you get started in the nail industry?
I've always loved to get my nails done. One day I just decided I wanted to try and do my own nails, just to try it. Once I did, I was in love with the outcome and the process, so I started doing my whole family and friends' nails.
What/Who inspires your work?
My family is my inspiration. I am doing this for them. They have faith in me and love my work. They encourage me to keep going. I love them so much and am so thankful for a such wonderful family.
Are there any tools you can't live without?
I totally can't live without my drill and brush. They are the main things I can't live without!
What is your favorite technique/style?
All of my clients know my style as "not so simple." Haha! They come with something simple and leave with the total opposite.
What is your craziest/funniest nail story?
I don't really recall the funniest stories, but with all of my clients, it's never a dull moment.
What tip can you offer other nail technicians?
I would just say to have patience, be yourself and just have fun. You will meet lots of new and wonderful people, which is such an amazing experience. Learn about your clients and you will fall in love with all of them and won't be who you are without them!
Anything else you'd like to add?
I want to say thank you and I'm very excited to see my work around the world. I love what I do! Thank you!
You can find Belynda Alvarado on the web:
In the NAILPRO User Gallery:
Click here for more Nailed Down! interviews »
Would you like to be featured in NAILED DOWN? Post images of your nail art to our User Gallery. We'll be highlighting outstanding artists based on those submissions! (minimum six pictures to qualify for consideration) NAILPRO reserves the right to edit submissions for length, grammar and clarity.