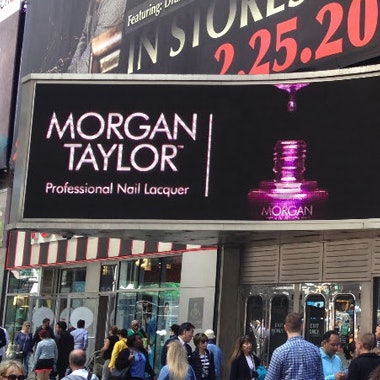 Morgan Taylor Lacquer is set to become a permanent fixture in the iconic Times Square landscape with the debut of a brand new ad. The 15 second spot, which debuted at midnight on Wednesday, May 14, will run twice an hour, every hour for 24 hours a day and seven days a week through 2015.
"Seeing our one-year-old brand in lights in Times Square is a huge milestone for the Morgan Taylor team," says Morgan Taylor CEO and founder Danny Haile. "We truly believe Morgan Taylor is setting the new standard in professional nail lacquer and we hope that visitors to Times Square will be inspired to ask their nail tech for a Morgan Taylor shade at their next salon appointment as a result of seeing the new ad."
The new spot can be viewed in-person on Broadway between 44th and 45th Streets in New York City.
For more information on Morgan Taylor, visit MorganTaylorLacquer.com.
[Image courtesy of Red PR]