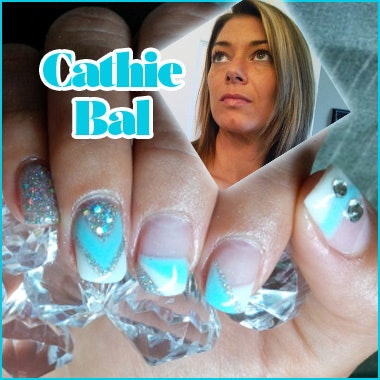 Welcome to NAILPRO's Nailed Down! where we "nail down" nail artists and technicians from our User Galleries and get to know them and their amazing work!
This week we visit Vernon, BC, Canada !
Meet Cathie Bal:
Describe yourself and you get started in the nail industry:
Describe myself… Well, I'm a stay at home mom of three kids (ages 11, 6, 2) who decided I needed some adult conversation during the day ?so that's how I got into the industry. I took my training thru Nail Techniques in Kelowna, BC, and set up a room in my house so I'd be able to have conversations in a day that didn't include, "stop that," "don't touch," or my favorite: "stop bickering!" and discovered I love creating beautiful nails!
What/Who inspires your work?
There are so many talented nail artists that inspire me like Melissa Tonks, Janelle Lamont and Talia Scherer – just to name a few.
Are there any tools you can't live without?
I'd have to say, I don't know what I'd do without my dotting tools. They can be used for so many different techniques and applications like my personal favorite – marbling!
What tip can you offer other nail technicians?
The best tip I can give to other techs is – just wing it! I took an art course from the amazing Melissa Tonks who told us to just keep adding stuff, the client won't know if that's how you intended for it to turn out in the end, and most times, it turns out great! I've tested this theory out a few times, and she was right. Also, don't be too critical of your own work. We aren't always our best judges!
You can find Gail Eddy on the web:
In the NAILPRO User Gallery: My favorites
Facebook: Nail Swag
Click here for more Nailed Down! interviews »
Would you like to be featured in NAILED DOWN? Post images of your nail art to our User Gallery. We'll be highlighting outstanding artists based on those submissions! (minimum six pictures to qualify for consideration) NAILPRO reserves the right to edit submissions for length, grammar and clarity.