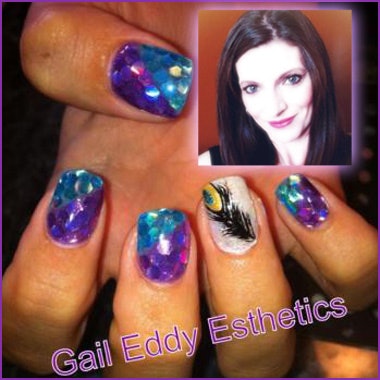 Welcome to NAILPRO's Nailed Down! where we "nail down" nail artists and technicians from our User Galleries and get to know them and their amazing work!
This week we visit St. John's, Newfoundland & Labrador, Canada!
Meet Gail Eddy:
How would you describe yourself?
I am a very creative person. I love helping others. I take pride in my work (my clients tease and say I'm a perfectionist!!). I consider myself a fun loving person who is easy to get along with and I love to share my ideas with the industry (which is why I also became an LCN Educator). I am the imagination behind the brushstrokes at work. I am grateful to each and every one of my clients for giving me the opportunity to do what I love to do!
How did you get started in the nail industry?
From a very young age, I wanted to be an artist and a teacher. I loved to paint and draw. I also loved everything that entails being a tomboy! Which is why my husband was surprised when I said I wanted to do some nail courses. I thought, "Why can't I do this, it is a form of art!" I felt there was a need to bring these esthetic services to the area where we lived. I fell in love with my career choice from the very first day I entered the esthetics classroom as a student! I knew then that this is what I was born to do!
What/Who inspires your work?
I love color! Everything about it, different colors show different emotions. I am inspired by Leah Light who is a Celebrity Nail Stylist in New Zealand. She does amazing work and is truly a beautiful person.
Are there any tools you can't live without?
My Spot n' Swirl, square sculpting brush and LCN striping polish.
What is your favorite technique/style?
At the moment, it's ombre and anything that glitters!!
What is your craziest/funniest nail story?
After a very long day of nails, it was my last client of the day (who happens to be a very sweet lady). When I was finished with her nails, I thought to myself, "Her nails don't look very shiny, but maybe I'm just very tired and my eyes are blurry." Well, later that night I woke from my sleep in a panic saying: "Base gel, I sealed her nails with base gel, not sealant!!!!!" Sure enough, they were as dull as anything! But, I got them all fixed up the following day and we both had a good chuckle about it!
What tip can you offer other nail technicians?
Never forget where you started. We all have to start from the beginning. It's an ever changing industry and we are all learning from each other every day. Never be too big to help another in need.
Anything else you'd like to add?
Thank you for this opportunity! Working in a career that I love is certainly a dream come true.
You can find Gail Eddy on the web:
In the NAILPRO User Gallery: Gail Eddy Esthetics nail art
Facebook: Gail Eddy Esthetics – LCN
Pinterest: Gail Eddy Esthetics
Twitter: @country_mouse22
Instagram: gail_eddy_esthetics
Click here for more Nailed Down! interviews »
Would you like to be featured in NAILED DOWN? Post images of your nail art to our User Gallery. We'll be highlighting outstanding artists based on those submissions! (minimum six pictures to qualify for consideration) NAILPRO reserves the right to edit submissions for length, grammar and clarity.