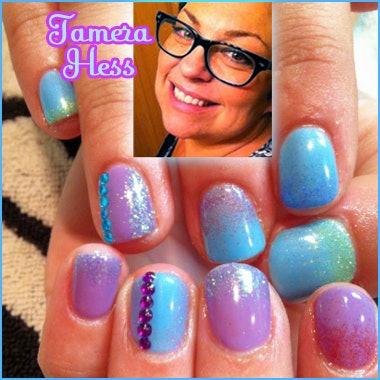 Welcome to NAILPRO's Nailed Down! where we "nail down" nail artists and technicians from our User Galleries and get to know them and their amazing work!
This week we visit Bourbonnais, Illinois!
Meet Tamera Hess:
Where do you work?
I work in a Studio Concept Salon called Heritage Hair Studios. I rent a studio room and I am self employed. 🙂
How would you describe yourself?
Fun and full of life. I love to try new things and take on challenges. Life is what you make out of it and I want to make it awesome!
How did you get started in the nail industry?
I worked as a beauty advisor at a Merle Norman Cosmetics Store my aunt owned. Her daughter did nails there and they both would tell me that I should do nails and how good I would be at it. Well, one day my marriage took a turn for the worse and I decided I needed a career! So I went to school to be a nail tech. Best decision ever!
What/Who inspires your work?
Looking in magazines and keeping an eye on all the wonderful techs' work out there. Online is my favorite way to find inspiration. I love how things have changed and how we can be so close to and keep in touch with fellow techs.
Are there any tools you can't live without?
I absolutely cannot live without my Efile!! It is my saving grace. 🙂
What is your favorite technique/style?
Pigments are one of my favorite tools to play with. You can do so much with them. Add them to gel or acrylic or simply brush them on the top of your gel polish to add dazzle! I am a glitter girl. Bling me UP, baby!
What is your craziest/funniest nail story?
OmGoSH!! LOL Back when I first started, I had a girl come in for a full set of pink and white acrylics. I had pulled out my bottles of liquid and set my dampen dishes with appropriate products. About halfway through applying the acrylic, I wanted to pull my hair out. The product was just not laying right. Well, I started to file her nails and they were like gummy bears! I'd used brush cleaner instead of monomer!!! LOL! I had to pull the rubber nails off of her and do them over. I was sooo embarrassed. That set took me forever! 😛
What tip can you offer other nail technicians?
Believe in yourself. You are your worst critic. Be kind to yourself. Get as much education as you can. It's a Beautiful Nail World out there! :))
You can find Tamara Hess on the web:
In the NAILPRO User Gallery: Fun Nails 🙂 and Just Nails∼
Facebook: Nails by Tamera at Heritage Hair Studio
Instagram: @tamera66
Pinterest: Tamera Yoakum Hess
Click here for more Nailed Down! interviews »
Would you like to be featured in NAILED DOWN? Post images of your nail art to our User Gallery. We'll be highlighting outstanding artists based on those submissions! (minimum six pictures to qualify for consideration) NAILPRO reserves the right to edit submissions for length, grammar and clarity.