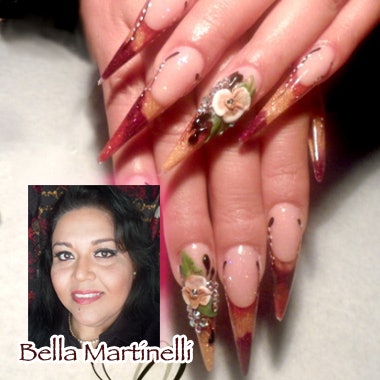 Welcome to NAILPRO's Nailed Down! where we "nail down" nail artists and technicians from our User Galleries and get to know them and their amazing work!
This week we visit Newport Beach, California!
Meet Bella Martinelli:
Where do you work?
I am the owner of Arte y Nails Club, a mentoring site and art gallery.
How would you describe yourself?
I'm a generous person, very empathic, creative, optimistic and a hard worker. I believe in education as the key to success.
How did you get started in the nail industry?
I love art. One day I found a nails magazine and I got amazed by all the beautiful things inside so I started to investigate about schools to learn all the basic skills. Nails are like little canvases. Now I am able to combine 2 of my dearest passions: Nails and Art.
What/Who inspires your work?
I am inspired by colorful/exotic animals and flowers, textures, geometry and perspective. When it comes to sculpting nails I really like the challenge I feel. Yes, challenge inspires me so much! I also love to follow great artists like Natalya Yakubchuk, Henrietta Almasi, Viktoriia Klopotova.
Are there any tools you can't live without?
I'm in love with my round brushes. They are so practical. I can draw very thin lines or make flower petals in a single stroke with them.
What is your favorite technique/style?
I like to break the rules. I love freestyle when it comes to art.
What is your craziest/funniest nail story?
I went to this lady's house by a referral and I forgot my alcohol. She offered me hers and I accepted. She brought me this black colored alcohol full of cannabis leaves inside. The one she uses for her muscle sores she said. I'm sure my facial expression was epic because she started to laugh like crazy!
What tip can you offer other nail technicians?
Keep informed and learning the latest trends. Today be better than yesterday and always try to reach your own potential and beyond. Be your own competition.
Anything else you'd like to add?
I'm into competitions. NAILPRO is giving me the chance to learn and probe my skills. I am competing with the best! I am a mentor and writer for Profesionales de las Uñas Magazine from Mexico. If you need a mentor you can find me on Arte y Nails Club, too!
You can find Bella Martinelli on the web:
In the NAILPRO User Gallery: Bella Martinelli Nail Art Designer and NAILPRO Competition @ ISSE Long Beach 2014
Business Website (in Spanish): arteynailsclub.webs.com/
Facebook: Bella Martinelli (Nail Artist)
Salon Facebook (in Spanish): Arte & Nails Club
Pinterest: Arte & Nails Club
Twitter: Arte y Nails Club
Click here for more Nailed Down! interviews »
Would you like to be featured in NAILED DOWN? Post images of your nail art to our User Gallery. We'll be highlighting outstanding artists based on those submissions! (minimum six pictures to qualify for consideration) NAILPRO reserves the right to edit submissions for length, grammar and clarity.