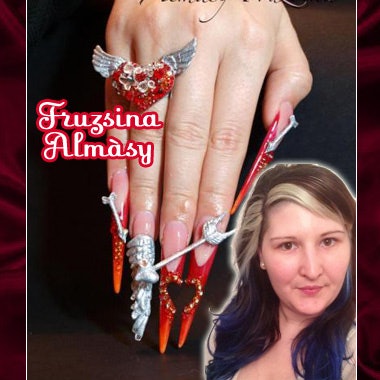 Welcome to NAILPRO's Nailed Down! where we "nail down" nail artists and technicians from our User Galleries and get to know them and their amazing work!
This week we go around the globe to Budapest, Hungary!
Meet Fruzsina Almàsy:
Where do you work?
I am the owner of Barocco Salon.
How would you describe yourself?
I like to think that I'm open-minded for new things. Plus, I always try to find a way to make things work. So I'm a positive thinker.
How did you get started in the nail industry?
I always loved doing nails, ever since I was a little child. First, I just went to salons and different technicians to do it for me. I had sculptured nails all the time. Afterwards, I met the most amazing nail technician and she asked me to be her model at different nail competitions. We shared a passion for nails, it was a great time. We became friends and then I thought, "I should try this, I should be a nail tech myself!" Then we opened a salon together when I finished the NailAcedemy. Now I have my own salon and we are still best friends.
What/Who inspires your work?
Mostly what I see around me. It could be architecture styles, fashion or all of us in the nail industry. But my personal favorites are the home accessories stores. You can find amazing things there. Like the first Nail Art Championship I won (in Hungary) is a very good example of that. I did a marble designed stiletto and kubenails with a chandelier design!
Are there any tools you can't live without?
My drill. It's easier to work with, especially if your favorite material is acrylics.
What is your favorite technique/style?
Acrylic sculpturing and 3D acrylic designs are what I love the most.
What tip can you offer other nail technicians?
Always try new shapes. It's fun and the best learning method to be a better nail technician.
You can find Fruzsina Almàsy on the web:
In the NAILPRO User Gallery: Acrylic NailDesigns
Salon Facebook Page: Barocco Szalon
Facebook: Fruzsina Almàsy
Tumblr: Nails 4U
Instagram: @fruzsinalmasy
Click here for more Nailed Down! interviews »
Would you like to be featured in NAILED DOWN? Post images of your nail art to our User Gallery. We'll be highlighting outstanding artists based on those submissions! (minimum six pictures to qualify for consideration) NAILPRO reserves the right to edit submissions for length, grammar and clarity.