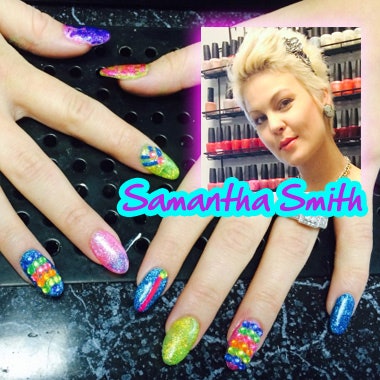 Welcome to NAILPRO's Nailed Down! where we "nail down" nail artists and technicians from our User Galleries and get to know them and their amazing work!
This week we visit Ohio AND West Virginia!
Meet Samantha Smith:
Where do you work?
I live in Marietta, Ohio, but I work at Perfect Escape Salon and Spa in Parkersburg, West Virginia.
How would you describe yourself?
I have a very colorful personality which I also wear on my sleeve.
How did you get started in the nail industry?
I have always been fascinated with artificial nails. Honestly, I wanted to learn so I could do my own for photoshoots!
What/Who inspires your work?
What inspired me to excel in my goal to be a reputable successful nail technician would be my teachers at Artisan School Of Cosmetology. They went the extra mile to make sure I was equipped in everything I needed to know before I graduated. I also have some pretty awesome friends who like to challenge me, which keeps things interesting.
Are there any tools you can't live without?
I cannot live without my Tammy Taylor flat brush or glitter. Both are an every day necessity.
What is your favorite technique/style?
I am just infatuated with 3D nail art. There are just so many things you can do with 3D sculpting.
What tip can you offer other nail technicians?
Best tip I can offer is to keep up. There is always something new to learn.
You can find Samantha Smith on the web:
In the NAILPRO User Gallery: New Work
Cute Bright Statement Nails
Samantha smith Wv nail art
Instagram: @samanthasmithmodel
Click here for more Nailed Down! interviews »
Would you like to be featured in NAILED DOWN? Post images of your nail art to our User Gallery. We'll be highlighting outstanding artists based on those submissions! (minimum six pictures to qualify for consideration) NAILPRO reserves the right to edit submissions for length, grammar and clarity.