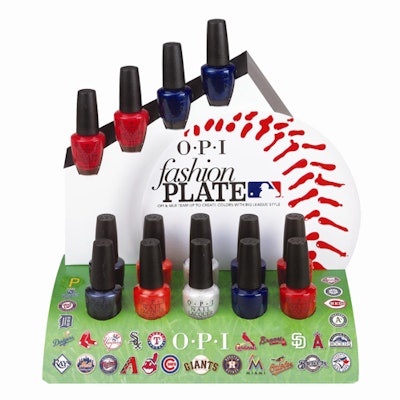 Wearing a favorite team's color to their games is pretty much the first rule of baseball. Okay, maybe not the first rule – there may be others about fouls and sealing bases – but it's definitely an unspoken requirement.
If your clients are sports fans, let them know about the newest collaboration from OPI, the MLB Collection. "Enjoying a baseball game is one of America's most celebrated pastimes," explains Suzi Weiss-Fischmann, OPI Co-Founder & Executive VP. "For many years, men dominated the stands, but today, more and more women can be found in the crowds. Baseball boasts a lot of female fans looking to demonstrate their love of the game through fashion – from trendy, feminine sports apparel to themed accessories. Now, women can wear the limited edition MLB Collection nail lacquers to show support from head (and fingers) to toe!"
Whether you include these colors in your salon for clients to select before a big game, or retail them to your more sporty guests, you'll want to get your hands on the new shades. We're eyeing that shimmery white. Plus, you'll be set when Fourth of July comes around!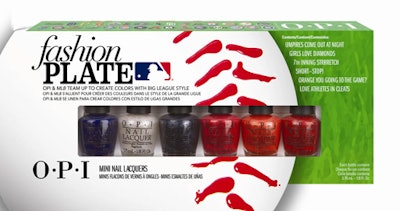 Color lineup: Umpires Come Out At Night (metallic navy), Girls Love Diamonds (glistening white), 7th Inning Stretch (crème navy), Short—Stop! (crème crimson), Orange You Going To The Game? (red orange), and Love Athletes In Cleats (sparkling red).
[Images: OPI]