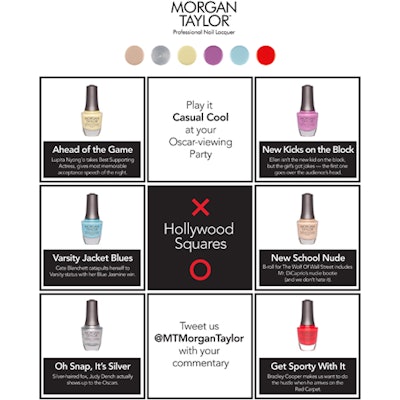 If you'll be watching the Academy Awards this Sunday, March 2nd, then play along in Morgan Taylor's Hollywood Squares game!
The side squares are played off of Morgan Taylor Lacquer colors–
Left side:
Ahead of the Game: Lupita Nyong'o takes Best Supporting Actress, gives most memorable acceptance speech of the night.
Varsity Jacket Blues: Cate Blanchett catapults herself to Varsity status with her Blue Jasmine win.
Oh Snap, It's Silver: Silver-haired fox, Judy Dench, actually shows up to the Oscars.
Right side:
New Kicks on the Block: Ellen isn't the new kid on the block, but the girl's got jokes – the first one goes over the audience's head.
New School Nude: B-roll for The Wolf Of Wall Street included Mr. DiCaprio's nudie bootie (and we don't hate it).
Get Sporty With It: Bradley Cooper makes us want to do the hustle when he arrives on the Red Carpet.
Play along and let us know how you score!
[Image: Morgan Taylor Lacquer]