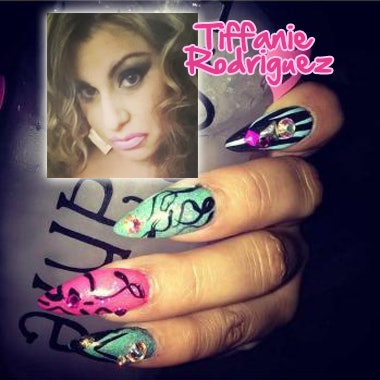 Welcome to NAILPRO's Nailed Down! where we "nail down" nail artists and technicians from our User Galleries and get to know them and their amazing work!
This week we visit Tulare, California.
Meet Tiffanie Rodriguez:
Where do you work?
I am the owner of Nail Couture By Tiffanie Rodriguez.
How would you describe yourself?
I'm a very fun, outgoing, energetic nail tech with a passion and love of nails!
How did you get started in the nail industry?
I started loving nails as a little girl, buying my own nail kits at the drugstore and practicing on myself. In junior high, I had a love of pedicures, doing them on my grandmother on a regular basis at home. During high school, getting my nails done regularly, I became more and more fascinated by the art and started practicing on my friends. I became popular in high school for doing nails so straight out of school I went to start a cosmetology program. Later, I found that my love was strictly nails, so I switched to the manicuring program and got my license in a month. I went to work the following Tuesday! Talk about driven 🙂
What/Who inspires your work?
I am inspired by fashion. Colors I see on different fabrics and textures, as well as my bling jewelry. My closet is a big inspiration. It's a world of color and sparkle.
Are there any tool(s) you can't live without?
My Valentino Beauty ventilation system has saved me! I can't live without it. The best ventilation system, hands down! Also my X Cut by Young Nails nail bit allows me to e-file off my gels and acrylics in record time! Time is money.
What is your favorite technique/style?
My favorite nail style is the stiletto nail. Also, gel nails are hands down my favorite! I've been rockin' the stiletto trend before it was popular – something my clients pointed out to me.
What's your craziest/funniest nail story?
The craziest nail story is when I had this very nice new client. She chose a very high-art design with over 6 colors. The theme was 80's nail art and took me over 4 hours to do. At the end, she said she forgot her wallet in her car. She went outside and never returned! The cops had her tracked down in no time and her parents, who were humiliated, paid me and made her apologize.
What tip can you offer other nail technicians?
Don't worry about the next nail technician. Concentrate on building your business and being the best nail tech you can be for your business. Never get too comfortable. Always be willing to learn more.
Anything else you'd like to add?
Nail Couture By Tiffanie Rodriguez is seeking one nail technician and one hairstylist. If you wanna be part of a rockin' high energy team, contact Tiffanie, owner of Nail Couture Tulare CA. email Tiffanie here!
You can find Tiffanie Rodriguez on the web:
In the NAILPRO User Gallery: Gel Polish Art and Nails by Tiffanie Rodriguez
Pinterest: Nail Couture By Tiffanie Rodriguez
Instagram: @nailcouturebytiff
Click here for more Nailed Down! interviews »
Would you like to be featured in NAILED DOWN? Post images of your nail art to our User Gallery. We'll be highlighting outstanding artists based on those submissions! (minimum six pictures to qualify for consideration) NAILPRO reserves the right to edit submissions for length, grammar and clarity.