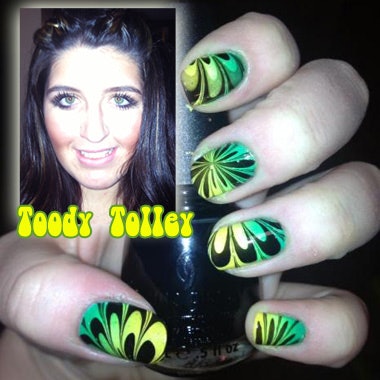 Welcome to NAILPRO's Nailed Down! where we "nail down" nail artists and technicians from our User Galleries and get to know them and their amazing work!
This week we visit Johnson City, Tennessee
Meet Chandera "Toody" Tolley:
Where do you work?
JCPenney Salon in The Mall at Johnson City
How would you describe yourself?
College student on Tuesdays and Thursdays, Cosmetologist/Nail Wizard all the other days.
How did you get started in the nail industry?
I've been painting my nails since I was a wee lass, but I knew I wanted to make a career out of doing hair and nails when I started taking cosmetology classes my sophomore year of high school. I had an amazing instructor who strongly encouraged and supported my work with nails. (Thanks Mrs. Garland!!)
What/Who inspires your work?
Other amazing Nail Artists on Instagram, Youtube, etc. My awesome followers on IG, and NAILPRO for all the latest techniques and trends!
Are there any tool(s) you can't live without?
Orangewood sticks and CND Shellac!
What is your favorite technique/style?
Water marbling and gradient designs. I'm also a sucker for the almond-shaped nail trend!
What is your craziest/funniest nail story?
A few months ago I was doing a pedicure on this lady. I was clipping her really thick toenails and rambling on about my day when I clipped her big toenail and the darn thing flew straight in my mouth! Gross!
What tip can you offer to other nail technicians?
Refrain from talking and keep mouth shut while trimming toenails or you shall pay!!
Anything else you'd like to add?
I want to encourage anyone aspiring to become a beauty professional (Cosmetologist, Nail Technician, Aesthetician) to find a beauty college and do so! Working in the beauty industry is not a ditzy or stupid profession, which is how stereotypes can make it seem. Becoming a beauty professional is a small investment of time and money for a rewarding career that can last a lifetime!
You can find Toody Tolley on the web:
In the NAILPRO User Gallery: Nail Art
Instagram: beautybytoody
Click here for more Nailed Down! interviews »
Would you like to be featured in NAILED DOWN? Post images of your nail art to our User Gallery. We'll be highlighting outstanding artists based on those submissions! (minimum six pictures to qualify for consideration) NAILPRO reserves the right to edit submissions for length, grammar and clarity.