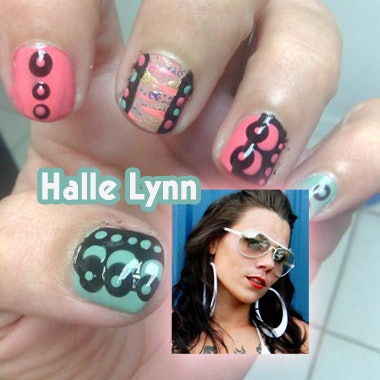 Welcome to NAILPRO's Nailed Down! where we "nail down" nail artists and technicians from our User Galleries and get to know them and their amazing work!
This week we visit Port Richey, Florida
Meet Halle Lynn:
Where do you work?
I do not work out of a salon. I do it for fun, in my living room while drinking coffee and watching David Tutera.
How would you describe yourself?
Fun, quirky, bright, crafty, imaginative and creative.
What/Who inspires your work?
Everybody and everything inspires my nail art. I just moved to Port Richey, Florida from Niagara Falls, NY and I missed home, so I did a city skyline. Or, like, I have a great new plaid shirt so I'm inspired to do matching nail art. I was originally inspired by Miss Jen Fabulous on YouTube. Now I'm inspired by all the great nail art I find on the internet.
Are there any tool(s) you can't live without?
I cannot live without my dotting tools! I need them for everything.
What is your favorite technique/style?
I don't have a favorite technique. I have a least favorite, the marbleized technique. Maybe because I just cannot get the hang of it. 🙂
What is your craziest/funniest nail story?
I don't have one yet. What's crazy is that I didn't think I could do it, but I proved myself wrong and have taught myself so much.
What tip can you offer to other nail technicians?
If I can offer any type of tip, it's to buy good nail polish. The cheap stuff is exactly that, the cheap stuff. China Glaze, OPI, Sinful Colors are a few of my faves.
Anything else you'd like to add?
Nail Art is an awesome way to express you're creativity.
You can find Halle Lynn on the web:
In the NAILPRO User Gallery: Hallewud Nail Designs
Facebook: Hallewud NailDesigns
Click here for more Nailed Down! interviews »
Would you like to be featured in NAILED DOWN? Post images of your nail art to our User Gallery. We'll be highlighting outstanding artists based on those submissions! (minimum six pictures to qualify for consideration) NAILPRO reserves the right to edit submissions for length, grammar and clarity.