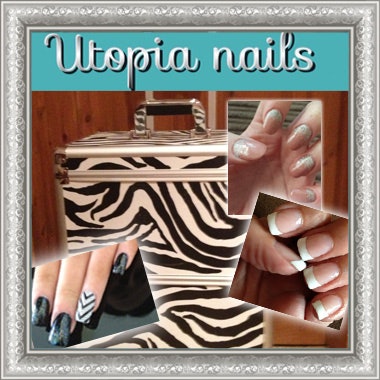 Welcome to our new feature "NAILPRO-file" where we highlight neighborhood nail salons and their owners from around the country and around the globe! !
This week's salon is in England!
Meet owner Rachel Harrison of the mobile salon Utopia Nails!
Salon Name: Utopia Nails
Salon Open Since: 1997

Salon Address: I'm a mobile technician in Sheffield, South Yorkshire, England

Salon Phone: 07812742253

Salon Website: Utopia Nails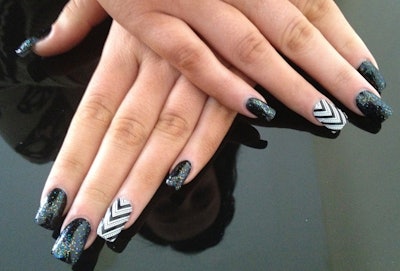 Tell us how you decided to open your own salon.
I left school and trained to be a nursery nurse and I went to work for a family as a nanny. I only worked from 3 until 7, so as I had my days free, I decided to do something during the day. My mum had been having her nails done in the town centre for a while. It was relatively new back then. I used to watch and think, "I could do that." So, I did some training in London. I thought I would do it for a while until I decided what I wanted to do with my life. I worked during the day for a few years, then I decided to rent a chair in a salon. Then I got my own salon which I ran for over three years.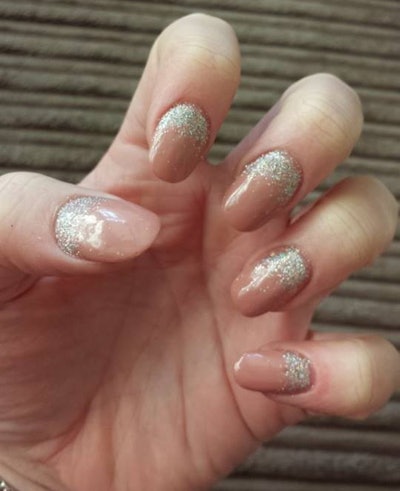 When I had my daughter, I decided mobile was a far more flexible way to work. It gave me the chance to structure my days to suit my home life. I became very ill about four years ago and it gave me the the ability to recover in my own time without worry I'd lose my job. I obviously don't get paid for holidays and sick days. But the feeling of everything you achieve was down to you and yours alone to be proud of is very rewarding. Plus spending time with my clients in their own homes makes it a much more relaxed and friendly way to work. I think the obvious thing is I have actually found what I want to do with my life.
What sets you apart from other salons in your area?
My passion. I invest a lot in my training. I read a lot on the subject of nails. I go regularly to the CND centre, Sweet Squared, in Leeds to attend their demo days. I get very excited about all things nails. The tools, the products, the new colours, glitters, foils… You name it, I love it!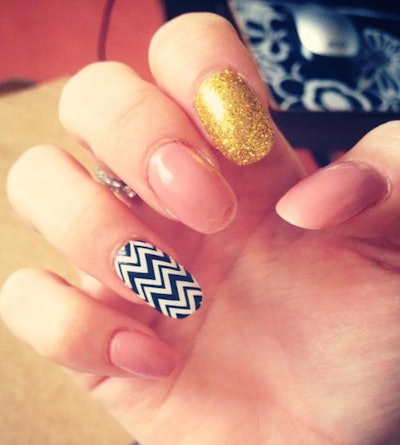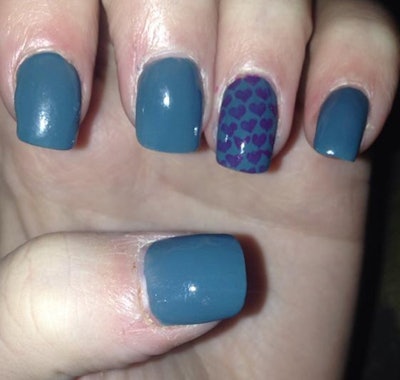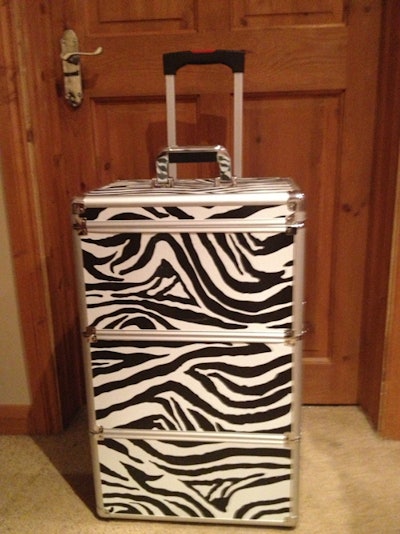 What is your most popular service?
My nail art. I have many different ways of providing art work. From the traditional striping brushes to glitters and foils. I also use stamping plates (koand, moyou). These are very popular. They are simple to use, easy to transport, and there are so many amazing designs that your clients will always find something they love. You can use them with nail polish or shellac power polish, which makes it very popular. You just paint the nails a base colour and let them dry (or set them in the case of shellac) Then you paint your design colour into the recess in the metal plate, take away the excess with the blade (usually attached to the rubber stamper, or a separate plastic blade) then push your rubber stamper into the design, it will transfer onto the stamper. Then stamp the nail and it will be transferred.
What products do you use in your salon and why did you choose them?
I use only CND acrylic products for my enhancements, as well as CND shellac for natural nails.
After my initial training in London, I did a CND conversion course. I had had some trouble with the products I'd been using causing skin irritations and lifting. So off to Leeds to Sweet Squared I went. I immediately noticed the superior quality of the acrylics. I have done all of my follow up training with them and when they launched shellac, I just had to add it to my service list. They are industry innovators. In my opinion all other companies are following behind. All my prep products are also CND. My nail polish collection, though, is really just any colour I see that I like or think will suit a certain client, or compliment a design of art work I've been thinking.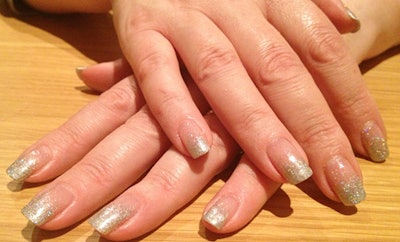 Do you offer retail?
No, I don't really offer retail. Since I have to carry everything with me at all times, it's too difficult to carry retail products, too. I do heavily recommend clients use cuticle oil and hand creams and advise ways of keeping their hands looking and feeling good. First rule I tell them: Wear rubber gloves when cleaning. If they do that, then that's the hardest battle won.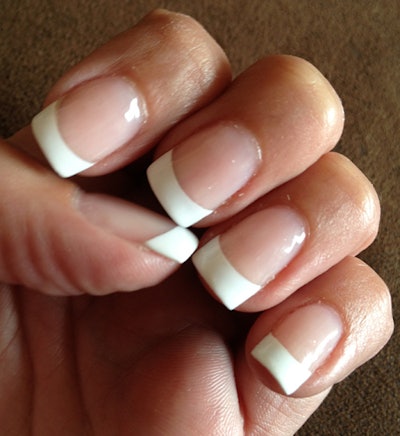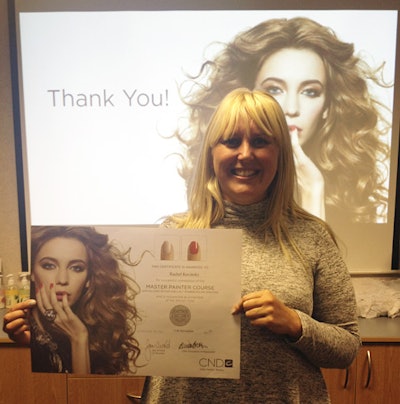 What's the best compliment you've received about your business?
I run my business mainly through my Facebook page. So any potential clients have access to photos either taken by me of my work or of "selfies" my clients have posted of their nails when they are pleased. And I regularly have people contacting me for appointments saying they have seen my work and they are very impressed. Some have said I'm amazing and very talented *blush*. I even have one client, a new mum, who posts on the local Facebook advertising pages with links to my page singing my praises. It's very humbling. I call her my PR angel.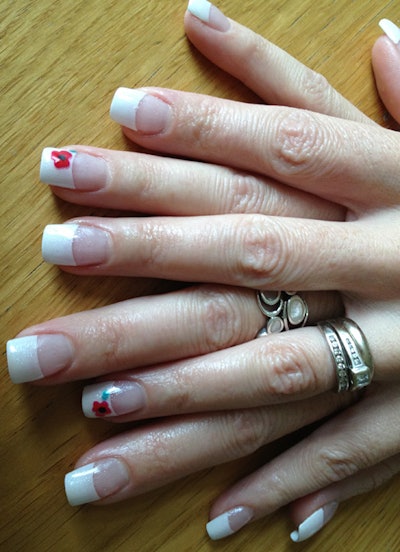 What advice would pass along to other salon owners?
Utilise social media. Facebook, Twitter and Instagram are amazing ways of getting people to see your work. They may not have been considering a nail treatment, but you may catch their eye and they may treat themselves. I regularly post articles about nail care, new innovations in the nail world and I am very vocal about using qualified and insured nail technicians. As well as posting funny pictures etc., and community related posts.
Anything else you'd like to add?
I try very hard to educate those reading my posts about the dangers of using unqualified and uninsured nail technicians. Especially those who use acrylics not designed for the nail industry. It's my wish that England will bring in laws making it so that all techs have to be properly qualified and insured. And any products not designed for the nail industry cannot be used for enhancements. I truly believe the "nail bars" where they use non nail industry approved acrylics are making it so that many people have been put of any nail treatments for life after a treatment in one if these places.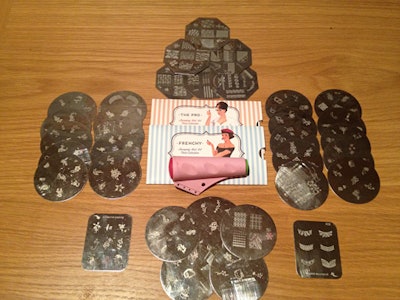 You can find Utopia Nails on the web:
Facebook: Utopia Nails
Would you like your salon featured in NAILPRO-file? Contact Chrisi Talyn Saje in the NAILPRO web department: here »
NAILPRO reserves the right to edit submissions for length, grammar and clarity.