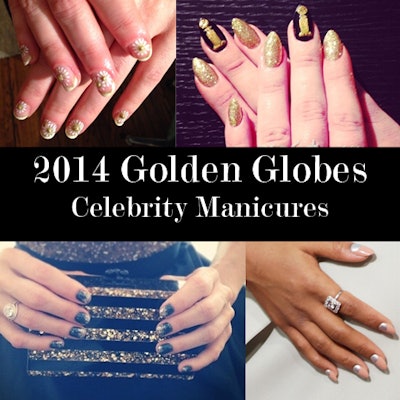 At the 2014 Golden Globes, we saw many a baby bump, almost got flipped off by Elisabeth Moss, and witnessed hesitant first-timers like Lupita Nyong'o approach the mani cam with caution.
Of course Fashion Police star Kelly Osbourne had to look flawless. We were big fans of her slicked back hair, but were absolutely in awe at the intricacy of her nails for the Golden Globes – they had actual tiny Golden Globes on them!
[Image: Instagram @kellyosbourne]
The big talk of the night was Lupita Nyong'o. The 12 Years A Slave actress looked absolutely regal in a red dress complete with cape, and a shimmery nude manicure by Deborah Lippmann herself using the brand's Gel Lab Base Coat, one layer of Naked, a coat of Diamonds and Pearls, all topped off with Gel Lab Top Coat.
[Images: Getty Images/WireImage, Instagram @deborahlippmann]
Deborah Lippmann also polished the digits of Golden Globe winner Jennifer Lawrence using Bitches Brew – a vampy brick red whose name encapsulated the no-care attitude of the young actress.
[Image: Getty Images/AFP]
Soon-to-be-momma Kerry Washington tried some simple nail art – the half moon. The nails base was painted in a peachy nude, followed by a perfect silver semicircle at the cuticle.
[Image: Getty Images/WireImage]
As always, Zooey Deschanel brought a dose of nail art to the awards. This year, L'Oréal Paris Nail Expert Tom Bachik adorned the New Girl lead's tips with miniature sparkling daisies that contributed to Deschanel's light and airy pixie-esque look.
[Image: Getty Images/NBCUniversal, Instagram @tombachik]
Tom Bachik also prepped nails for Golden Globe winner Amy Adams using L'Oréal Paris Eva's Nude, a color inspired by Eva Longoria.
[Image: Getty Images/WireImage, Instagram @tombachik]
Orange Is the New Black's Taylor Schilling got an Essie manicure from celeb nail artist Beth Fricke. Love the combination of jewel tones in her dress and digits!
[Image: Getty Images/WireImage, Instagram @beyondbethla]
Drew Barrymore painted her nails for two! (Does it work that way??) Debbie Leavitt applied a color from Barrymore's own line of cosmetics – Flower Beauty I Lavendare You.
[Image: Instagram @drewbarrymore, Getty Images/WireImage]
Parenthood's Monica Potter had nails nearly as glitzy as her dress. She showed off an Irene Neuwirth ring and a sparkly-tipped mani using Essie Cashmere Bathrobe and Beyond Cozy.
[Images: Instagram @monicapottergram and @essiepolish]