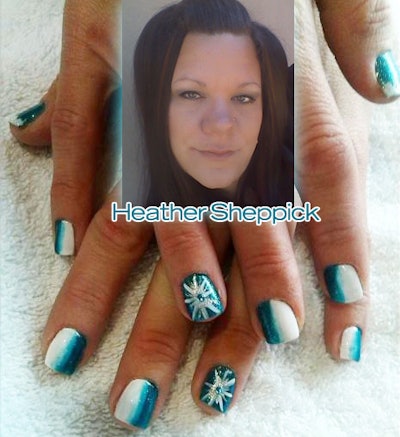 Welcome to NAILPRO's Nailed Down! where we "nail down" nail artists and technicians from our User Galleries and get to know them and their amazing work!
This week we visit St. George, Utah
Meet Heather Sheppick:
Where do you work?
I work at the Le Nail.
Tell us about how you got started in the nail industry.
I have been a licenced nail tech for 15 years. When I was a little girl, my dad did my mom's nails and did such a good job, he started doing her friends. My father passed when I was eleven, so doing nails keeps me close. Most of all the smell.
What/Who inspires your work?
I get a lot of my inspiration from other nail techs and to be honest, little girls. They paint there nails in new fun ways that I would just never think of. I take what they do and clean it up and make it fun.
Are there any tool(s) you can't live without?
My most valuable tools while working is a dental pick and striper brushes and most of all my pointer finger!
What is your craziest/funniest nail story?
As far as crazy stories I have a few but one I will never forget. I had a very small client for a few years. She came in for a back fill and just as I was almost done, she started looking pretty ill. I asked her if she was okay and she said she was. A few moments later, her head smashed into my glass desk and there was blood everywhere! I tried to wake her, but she was as limp as a fish. She came to a few minutes later and was totally confused. She asked me what had happened and I told her. Then she said she had just donated blood. Wow I was sure freaked out! She laughed it off, but it scarred me for life. LOL.
What tip can you offer to other nail technicians?
I'm also a licenced instructor. I have a lot of joy watching people do nails when they first start out. My tid bit of advice is you're the one who has to do the nails. No one does them the same, so don't get down on yourself if you can't do it exactly the way you're shown. You will come up with your own way that will work for you. Just practice on yourself and you will find your way. My biggest tip for other nail techs out there is if you have clients who lift more than you would like, do one dry coat of primer and then do another coat right before you put on the acrylic so they dry together. Works like a charm. I call that my wet coat.
Anything else you'd like to add?
Thank you so much for this opportunity. It means a lot to me. NAILPRO rocks!!!!
You can find Heather Sheppick on the web:
In the NAILPRO User Gallery:
Click here for more Nailed Down! interviews »
Would you like to be featured in NAILED DOWN? Post images of your nail art to our User Gallery. We'll be highlighting outstanding artists based on those submissions! (minimum six pictures to qualify for consideration) NAILPRO reserves the right to edit submissions for length, grammar and clarity.