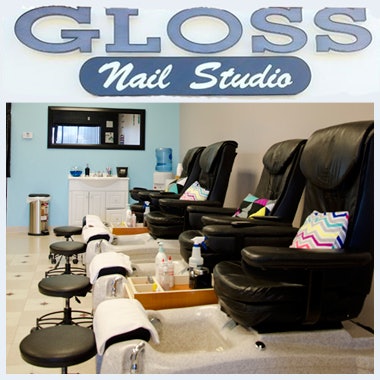 Welcome to our new feature "NAILPRO-file" where we highlight neighborhood nail salons and their owners from around the country and around the globe! !
This week's salon is in Idaho!
Meet owner Christian Tran of GLOSS Nail Studio!
Salon Name: GLOSS Nail Studio
Salon Open Since: July 16, 2013

Salon Address: 750 S. Progress Ave. #165, Meridian, ID 83642

Salon Phone: 208-887-8548

Salon Facebook Page: Gloss Nail Studio LLC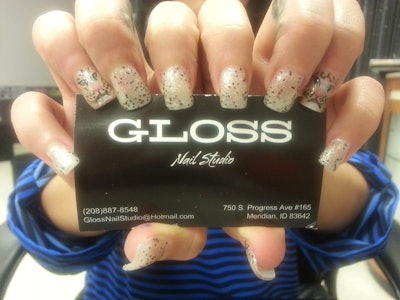 Tell us how you decided to open your own salon.
It was all about the timing. I received my license in 2004 and worked at various Asian owned salons for almost 8 years. The work environment was not what I thought doing nails was supposed to be about and I became unmotivated and burnt out. Last year, I finally decided to quit doing nails and just stay at home with my children until I figured out what I wanted to do with my life. Three months in I began to miss doing nails, so I decided to give it another chance, but in a different work environment. I began working in a spa at a local health club and my drive and creativity came back alive. I was excited to do nails again and saw my future open up. Mid-June my husband came to me with this Craigslist ad for a nail salon that was for sale at a good price. He has always wanted me to open my own place but my only knowledge about a nail salon was of the Asian way and I couldn't see myself doing that for the rest of my life. With this renewed outlook on how nails SHOULD be done, we decided to make an offer. From the day our offer was accepted to when I had the keys in my hand was within one week. EVERYTHING fell into place as if it was meant to be. I absolutely love going to work every day now!!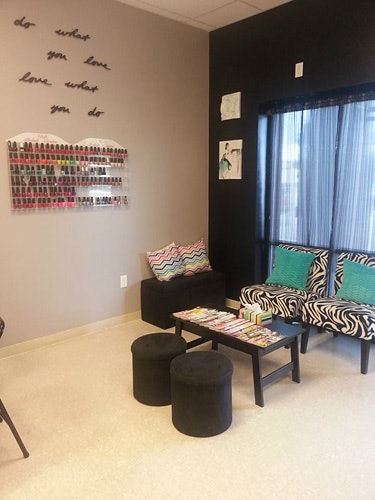 What sets you apart from other salons in your area?
We list on the back of our brochures the top 5 reasons why a client should choose GLOSS over other salons. It says:
1. Quality Products – NO MMA
2. ALL licensed Technicians
3. Up-to-date with the latest trends
4. Strong adherence of proper sanitation practices
5. Highly effective communication
Of all those reasons, the most common comment I have received from clients was how relieved they were to be able to communicate and have a conversation with myself and my techs.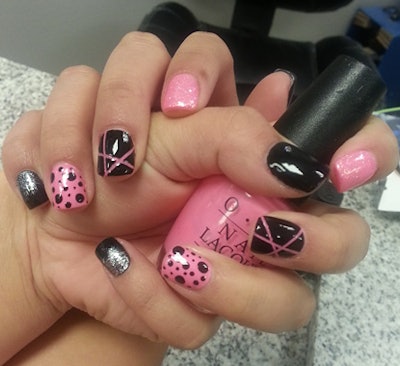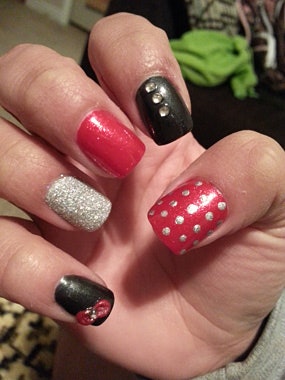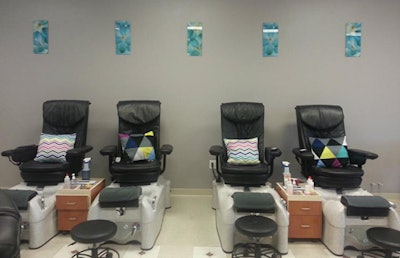 What is your most popular service?
Nail art! Whether it's over acrylic or on natural nails with gel polish, clients love having fun nails. We do a lot of blended glitter with hand painted nail art over the top. The 5 different styles on each hand has been a big hit also. I can't even remember the last time I did a simple white tip!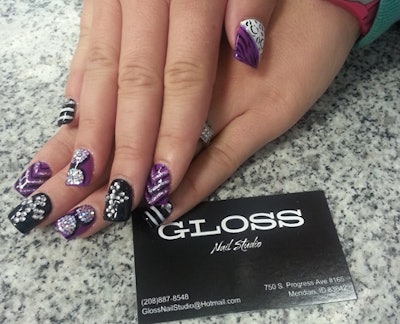 What products do you use in your salon and why did you choose them?
My sisters and girlfriends have all been good sports. They let me try new products and techniques on them all the time without any complaints! I tried different acrylic products for 6 months before deciding which one I liked the best. For acrylic I use CND's Retention+ line because it stayed strong, had no yellowing, and very minimal lifting on various types of nails. For lacquer, we use OPI, Vinylux, and Morgan Taylor and for gel polish we use OPI GelColor and Gelish.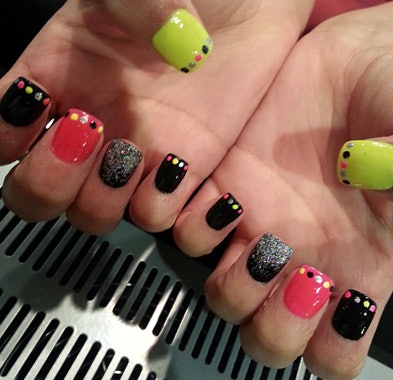 What's the best compliment you've received about your business?
We have been blessed and received so many!! But, I think the most common and the most surprising one I have received was how clean we keep the studio. It's crazy to me that people don't take pride in their work environment enough to keep it clean, but it blows my mind even more that clients would continue going to these places even after knowing how dirty the place is!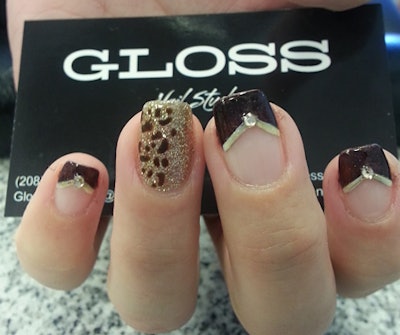 If there was one piece of advice that you could pass along to another salon owner, what would it be?
When our clients leave our salon, there's always one thing they say: "I always thought gels and acrylics were painful and very damaging for my nails." It was a complete shock for me to hear how many clients had received painful manicures before. Rough filing, dull instruments, forceful cuticle pushing and gel removal; these are all things that clients are afraid of. In order to gain repeat clients, it's important to constantly stay on top of the skills of your staff and make an effort to help them grow. A narrow margin and high turnover isn't always best. As manicurists, we are also "nail artists," and as such we should have pride in our creative, cutting-edge work, and always strive to improve our skills to our clients' satisfaction.
Anything else you'd like to add?
Don't be afraid to try new ideas and products! Learn to take compliments and criticism with grace! And most of all, have faith in yourself. Clients can sense if a nail tech doubts themselves and it can make them uncomfortable. If a client is comfortable and having fun, that is what they will leave remembering and not that a line was crooked.
You can find GLOSS Nail Studio on the web:
Facebook: Gloss Nail Studio LLC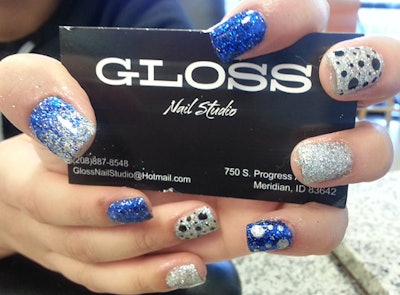 Would you like your salon featured in NAILPRO-file? Contact Chrisi Talyn Saje in the NAILPRO web department: here »
NAILPRO reserves the right to edit submissions for length, grammar and clarity.