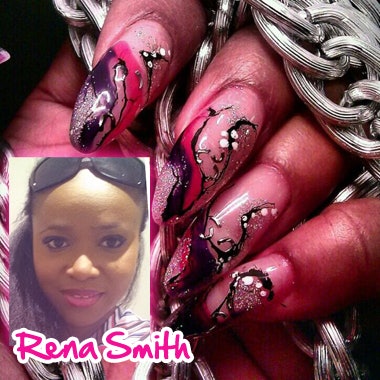 Welcome to NAILPRO's Nailed Down! where we "nail down" nail artists and technicians from our User Galleries and get to know them and their amazing work!
This week we visit Atlanta, Georgia
Meet Rena Smith:
Where do you work?
I am the owner of Haute Nails Salon (which is currently being renovated)
How would you describe yourself?
I'm a creative thinker who loves to stand out from the crowd.
Tell us about how you got started in the nail industry.
Years ago I was in the cosmetology field as a hairstylist and branched out with nail artistry. I had built a significant clientele as a hairstylist and was always being approached about getting into nails. I did and it took off.
What/Who inspires your work?
Gemma Lambert, Ilona Musik of Poland, Kovacs Gabo of Crystal Nails, Viv Simmonds, Greg Salo of Young Nails, Alexander Stepanov, Ela Loszczyk, there's too many talented nail artists to name!
Are there any tool(s) you can't live without?
A good nail art and acrylic brush.
Do you have a favorite technique or style?
Embedded acrylic.
What tip can you offer to other nail technicians?
Always put your work out in the limelight. Believe in what you do and try new things. Someone will like it.
Anything else you'd like to add?
I've always been interested in working for a big brand like OPI or CND.
You can find Rena Smith on the web:
In the NAILPRO User Gallery: Haute Nails
Website: tphaeulz.wix.com/portfolio
Facebook: Haute Nails
Pinterest: Haute Nails by Me (Personal Work)
Instagram: haute_nails

Click here for more Nailed Down! interviews »
Would you like to be featured in NAILED DOWN? Post images of your nail art to our User Gallery. We'll be highlighting outstanding artists based on those submissions! (minimum six pictures to qualify for consideration) NAILPRO reserves the right to edit submissions for length, grammar and clarity.