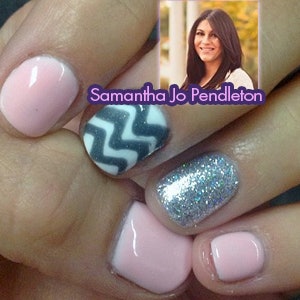 Welcome to NAILPRO's Nailed Down! where we "nail down" nail artists and technicians from our User Galleries and get to know them and their amazing work!
This week we visit Johnson City, Tennessee.
Meet Samantha Jo Pendleton:
Where do you work?
Austin Springs Spa.
How would you describe yourself?
I am an incredibly detail oriented, down-to-business nail tech. I take my job very seriously and take care to give each of my clients the best service possible. I do my best to stay as educated as possible about all things nail related.
Tell us about how you got started in the nail industry.
I have polished my nails regularly for 10 years. I began experimenting with nail art about 5 years ago. My mother-in-law is also a licensed nail technician and she noticed my nails and suggested I try nail school. I instantly loved it and have been proud of the decision ever since.
What/Who inspires your work?
I find quite a bit of inspiration from Pinterest. I browse nail designs daily to stay up-to-date on nail trends for my clients.
Are there any tool(s) you can't live without?
I cannot live without OPI Gel Polish. It is an amazing product. It is such a great canvas for nail art. I love that there is a product available that not only lasts for two weeks, but it protects the nail as well.
Do you have a favorite technique or style?
I enjoy hand-painted nail art. It is a wonderful way to express yourself. Having the creative freedom to hand draw designs on clients nails ensures your clients will have truly unique nails.
What is the funniest/craziest nail story?
From the beginning of my nail career until present, I have always had a horrible relationship with nail glue. While in nail school I managed to glue three fingers together in front of the first client I ever had. My instructor had to help me unglue myself in order to provide my client with service!
What tip can you offer to other nail technicians?
The most important tip I can give is to remember that your name goes out the door with every client you service. Take your time and have patience with each and every client. Treat every nail as if it is your own. Another tip, try new things and always think outside the box. We are fortunate to live in a time where there are no boundaries on nail trends. Strive to stay creative and your clients will love it!
Samantha was also recently spotlighted at her salon as employee of the month!
Check it out: Austin Springs Spa
You can find Samantha Jo Pendleton on the web:
In the NAILPRO User Gallery: Fun With Gels
Pinterest: nailsbysammyjo
Click here for more Nailed Down! interviews »
Would you like to be featured in NAILED DOWN? Post images of your nail art to our User Gallery. We'll be highlighting outstanding artists based on those submissions! (minimum six pictures to qualify for consideration) NAILPRO reserves the right to edit submissions for length, grammar and clarity.