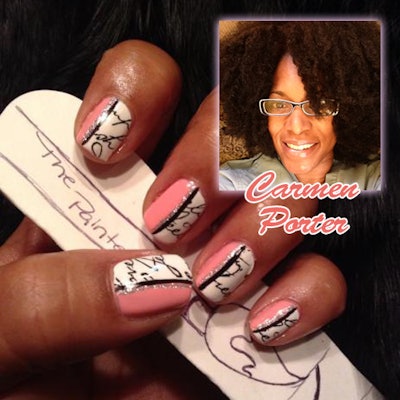 Welcome to NAILPRO's Nailed Down! where we "nail down" nail artists and technicians from our User Galleries and get to know them and their amazing work!
This week we visit Houston, Texas.
Meet Carmen Porter:
Where do you work?
I am currently an evening student at Royal Beauty Career in Pasadena Texas. By day, I'm an O.R. Nurse (20+yrs).
How would you describe yourself?
I've always been the artsy type. I love drawing and I love color. All colors are my favorites.
Tell us about how you got started in the nail industry.
Purely by accident. I love for my nails to look nice. I started doing nail art on them and people would actually grab my hand to see my nails. Everyone would say, "You should do this for a living," "You're really good" or "How do you do both of your hands?!" I'd say I was just having fun, but then I was thinking, "Maybe I am good.  Maybe I can do this" So, I enrolled, and I love it! Thanks for encouraging me everyone! <3
What/Who inspires your work?
Everything! Nature, animals, fashion, prints, shoes, candy, children, flowers, holidays, just everything. I can find inspiration everywhere.
Are there any tool(s) you can't live without?
My dotting tools and my art brushes.
Do you have a favorite technique or style?
It's a bit messy, but I love water marble. It's challenging. Just remember, never use old thick polish, it just won't work. Practice …a lot.
What is the funniest/craziest nail story?
I did a little girl's nails and when I was done, she wouldn't put her hands down, she gave me the biggest brightest smile and said her hands are pretty now. Best payment I've ever gotten.
What tip can you offer to other nail technicians?
Practice, practice to perfect your craft. Be professional, prompt and kind.
Anything else you'd like to add?
Your gift for art is different from everyone else's, and no one can do your art the way you can. Look at other nail art for inspiration, but always express your own special gift. No need to be intimidated, just perfect your own craft and you'll be great.
You can find Carmen Porter on the web:
In the NAILPRO User Gallery: Cashmere's Creations and Fall 2013
Instagram: @thepaintedtalon
Facebook: The Painted Talon
Click here for more Nailed Down! interviews »
Would you like to be featured in NAILED DOWN? Post images of your nail art to our User Gallery. We'll be highlighting outstanding artists based on those submissions! (minimum six pictures to qualify for consideration) NAILPRO reserves the right to edit submissions for length, grammar and clarity.