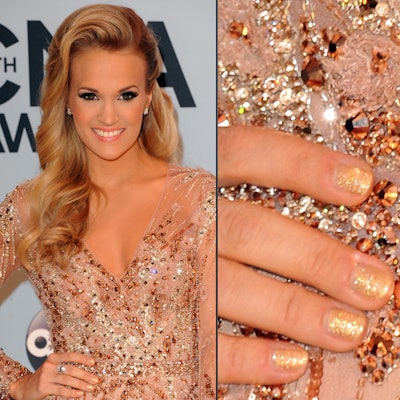 We're pretty sure success is when OPI names a polish after you. And by that standard, country singer Carrie Underwood must be doing pretty well. At the recent 47th Country Music Awards, Underwood both co-hosted and performed, all while wearing an enviable dusty rose Ralph & Russo Couture gown and her textured gold namesake polish, OPI Carrie'd Away.
While the Nicole by OPI Carrie Underwood collection doesn't hit store shelves until January 2014, the star has been testing out the different lacquers on red carpet events for months. For instance, at this year's Emmys, she flaunted nude polish Sing You Like a Bee, which you can see here.
We're excited to see the set's other polishes in action come 2014!
[Image: Getty/FilmMagic]