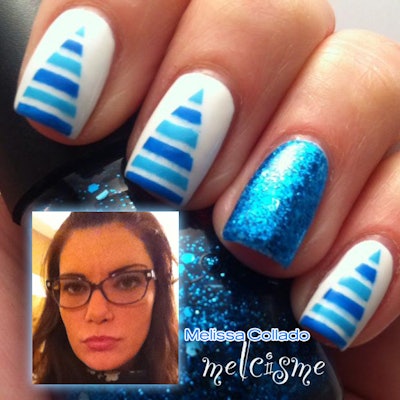 Welcome to NAILPRO's Nailed Down! where we "nail down" nail artists and technicians from our User Galleries and get to know them and their amazing work!
This week we visit Staten Island, New York.
Meet Melissa Collado:
Where do you work?
I do not work or own a salon (yet) just freelance work for now. I work a corporate job in NYC & do nails in my free time.
How would you describe yourself?
Business professional by day. Party girl/nail freak by night 🙂
Tell us about how you got started in the nail industry.
Just started polishing my own nails in June 2012 and became instantly addicted to nail art. Once I joined those social media sites I realized I am not the only one!
What/Who inspires your work?
Art, fashion, current trends and other nail artists in the IG/Pinterest community.
Are there any tool(s) you can't live without?
My tiny nail art brushes (for artwork), striping tape (for perfect lines) and dotting tools (for perfect circles).
Do you have a favorite technique or style?
I love to do a lot of glam nails, meaning nail art with lots of pearls, rhinestones and studs on them.
What is the funniest/craziest nail story?
I really don't have one except for when my husband allowed me to test out some new polishes on him because I did not want to ruin my current mani.
What tip can you offer to other nail technicians?
Practice makes perfect. I've come a long way in a little over a year. Patience is critical as well.
You can find Melissa Collado on the web:
In the NAILPRO User Gallery: Nail Art
Instagram: melcisme
Pinterest: Nail art by me 🙂
Click here for more Nailed Down! interviews »
Would you like to be featured in NAILED DOWN? Post images of your nail art to our User Gallery. We'll be highlighting outstanding artists based on those submissions! (minimum six pictures to qualify for consideration) NAILPRO reserves the right to edit submissions for length, grammar and clarity.