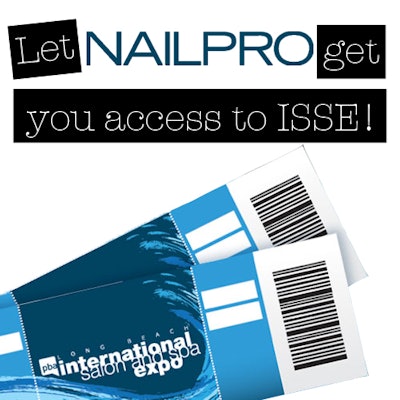 Win a 3-Day Pass to ISSE Long Beach 2014!
Get access to one of the hottest shows in the industry: ISSE. The Professional Beauty Association has given NAILPRO ten show tickets! We'll be giving away two 3-Day passes a week until December 8th! 
ENTRY RESTRICTIONS:
To enter, you must be a licensed beauty professional (see
to ensure you qualify).
There are no U.S. residency restrictions to enter.  However, travel and accommodations are not included in the prize.
Contest ends December 8th, 2013. Only one entry is necessary to qualify for each of the five weeks. 
Before entering, also see PBA's Show Policy
.
[Image: PBA]
ISSE Long Beach is open to licensed beauty professionals, cosmetology students and instructors only. Manufacturers, distributors and manufacturer representatives are NOT eligible to attend this show unless they are members of the Professional Beauty Association (PBA).
All attendees will be required to show proof of current license and photo identification before entering the show floor. No children under the age of 16, including infants, will be permitted on the show floor. No strollers, rolling carts or bags with wheels of any kind will be permitted on the show floor. A complimentary bag check will be available.
Winners have to register by December 31 in order to receive their badge by mail. If they get the badge by mail, their check-in process onsite would be much faster.
Accepted Professional Credentials:
    Salon/Spa business license denoting salon/spa ownership
    Cosmetology, Nail Technician, Esthetician, Massage Therapist license/certificate
    Make-Up Artist Union Card, Temptu Pro Artist Card, MAC Pro Card or Smashbox Pro Card
    PBA or other beauty association membership card (CCA, ISPA, etc.)
    Sally's Professional Card (red)
    CosmoProf Proclub Card
    SalonCentric Card
    Cosmetology School Business or State License
    Cosmetology School Student ID card, hours card or original letter on school letterhead verifying current enrollment
    Business card from a legitimate salon with name imprinted on it
    Letter from salon/spa owner on company letterhead, including owner's business card, verifying employment
    Paycheck stub or W-2 form with your name and salon name imprinted on it
    Other appropriate license denoting you as a member of the professional beauty industry
All credentials must be accompanied by a photo ID. NO EXCEPTIONS.
For questions on credentials, please contact Ms. Chris Kline at ckline@probeauty.org.