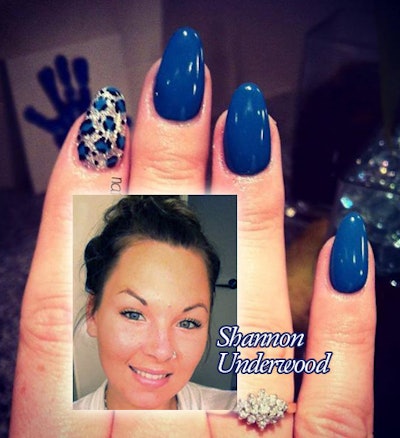 Welcome to NAILPRO's Nailed Down! where we "nail down" nail artists and technicians from our User Galleries and get to know them and their amazing work!
This week we visit Port Coquitlam, British Columbia
Meet Shannon Underwood:
Where do you work?
Seabreeze Skin and Body Care Studio.
How would you describe yourself?
I am a very passionate and ambitious person. I wear my heart on my sleeve and strive to be the best possible version of myself.
Tell us about how you got started in the nail industry.
I had just finished my Bachelors degree in English and was busy raising two boys when I began to see a very creative hands-on side of myself that was demanding attention. I had always loved the beauty industry and had always loved nails, so I followed my heart and enrolled in a diploma program months after finishing my last exam for university!
What/Who inspires your work?
So many other nail technicians inspire me. I have grown to know so many of them on a personal level and their talents have pushed me to always strive for perfection. I am also inspired by my clients who come in with gorgeous designs for me to recreate and I'm equally inspired by my clients who come in and offer me a blank canvas to work with which forces me to think creatively on the spot! Best part about loving my job is that I truly feel inspired every day.
Are there any tool(s) you can't live without?
My Young Nails pro detailer brush, striping brush, dotting tools, La Vaque thumb palette.
Do you have a favorite technique or style?
I strive for clean lines, perfect polishing, statements of color and art without being messy or "busy." I aim for simplicity in my art as it's easily wearable and eye catching.
What is the funniest/craziest nail story?
I don't know that I have any crazy stories, but I will never forget practicing doing a set of enhancements on my sister when I first started a few years ago. She screamed at the top of her lungs when I started to cut the nail tips. I immediately screamed and began to cry – thinking I had cut her! Only to look up to see her and my family members laughing hysterically at my gullibility. Not nice!
What tip can you offer to other nail technicians?
One bit of advice to all nail technicians is to believe in your work. Hold your head up high and prove to yourself and to your clients that you are the best. If you are slow at doing a set of enhancements, so what? Strive to do the best, cleanest work possible and your speed will develop later. I hear from so many new nail technicians that their speed is a constant worry and that it affects their work. Always remember that speed isn't everything. Quality of service is much more important! Work on perfecting your service before you speed it up.
Anything else you'd like to add?
I'd like to thank NAILPRO for this feature and for recognizing my passion. Being a part of this industry has really completed me as a person and I intend to spend the rest of my life perfecting my skills and inspiring others to follow their hearts!
You can find Shannon Underwood on the web:
In the NAILPRO User Gallery: Nails by Shannon
Facebook: Nails by Shannon
Instagram: @gelnailsbyshannon

Weebly: Nails by Shannon
Click here for more Nailed Down! interviews »
Would you like to be featured in NAILED DOWN? Post images of your nail art to our User Gallery. We'll be highlighting outstanding artists based on those submissions! (minimum six pictures to qualify for consideration) NAILPRO reserves the right to edit submissions for length, grammar and clarity.