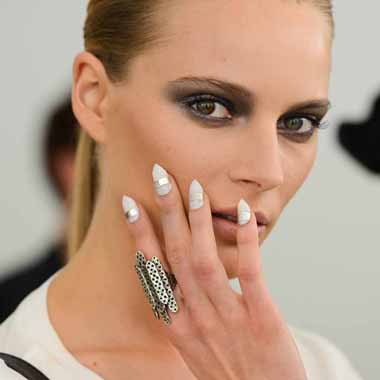 At Cushnie Et Ochs,  celebrity manicurist Patricia Yankee and her team applied custom-made stiletto nails with an edge to the runway models, featuring China Glaze Nail Lacquer.
"The look at the Cushnie Et Ochs show was inspired by straight jackets and straps, basically being bound up," said Yankee. "The designers and I wanted to create a look that would embody this on the nails. We decided on the sterling silver bands over a milky white nail color to mimic the strap buckles against a restricting white straight jacket."
Nails were first shaped and buffed using IBD White Padded Files and EzFlow Sand Shark II Pro Buffers. A base coat of China Glaze Dandy Lyin' Around was applied to nails then topped with a coat of Moonlight for a subtle, milky-white finish.
A band of sterling silver was then placed horizontally across each nail, applied to the models' hands, and  carefully filed into a stiletto shape. The look was set in place with the award-winning Seche Vite Fast Dry Top Coat.