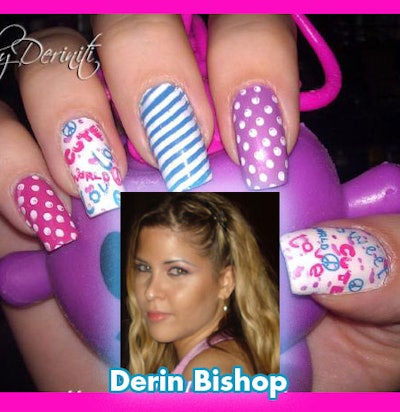 Welcome to NAILPRO's Nailed Down! where we "nail down" nail artists and technicians from our User Galleries and get to know them and their amazing work!
This week we visit New York!
Meet Derin Bishop aka "Deriniti":
How would you describe yourself?
I would describe myself as silly, fun, creative and a perfectionist.
Tell us about how you got started in the nail industry.
When I was a kid, I loved to draw. I've taken that creative side and found a new canvas to work with, nails! Now I can showcase my artwork wherever I go! : )
What/Who inspires your work?
God, family, other nail artists, seasons, holidays, fashion, patterns, colors, there are so many things!
Are there any tool(s) you can't live without?
My stamping supplies, striping brushes and dotting tools.
Do you have a favorite technique or style?
Nail stamping and freehand nail art.
What tip can you offer to other nail technicians?
Try to see the beauty in everything and you will always be inspired! 🙂
You can find Derin Bishop on the web:
In the NAILPRO User Gallery: My Pretty Nailz
Facebook: My Pretty Nailz
YouTube: My Pretty Nailz
Blog: My Pretty Nailz
Click here for more Nailed Down! interviews »
Would you like to be featured in NAILED DOWN? Post images of your nail art to our User Gallery. We'll be highlighting outstanding artists based on those submissions! (minimum six pictures to qualify for consideration) NAILPRO reserves the right to edit submissions for length, grammar and clarity.