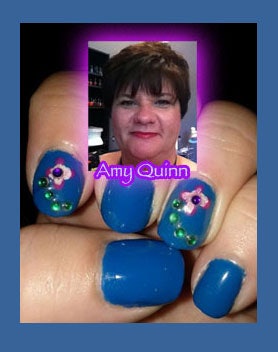 Welcome to NAILPRO's NAILED DOWN where we "nail down" the details of selected nail design artists from our User Galleries.
This week we visit Avon, New York!
Meet Amy Quinn:
Where do you work?
I am the owner of Nails To You Salon in Honeoye Falls, New York.
How would you describe yourself?
I would describe myself as a very outgoing and funny person. I love to make people laugh.
Tell us about how you got started in the nail industry.
I got started in the nail industry when I came to a cross roads in my life. I already knew a lot about doing nails from my sister-in-law who is also a nail technician. I loved doing my friends and family's nails, so I decided to take the plunge and attend nail school.
What/Who inspires your work?
What inspires me on a daily basis are my clients!!! They inspire me to work harder, learn more and never give up.
What tool(s) you can't live without?
I would have to say the tool I absolutely canNOT live without is the pink manicure claw. It saves my nails while I'm doing others' nails.
Do you have a favorite technique or style?
My favorite technique right now is the Ombre. I love it because you can use any colors, it's easy to do and beautiful when you're done. My favorite style is, and always will be, the French Manicure. It's classic, elegant and suits everyone.
What is your craziest/funniest nail story?
Ah, my craziest and funniest nail story is when I was done putting gel polish on a client for the first time and she didn't believe me that her polish was completely dry. When I went to swipe her nail with alcohol to get the sticky layer off, she threw her hand back and hit a girl walking behind her. After all the chaos and apologies were finished, she was completely amazed. Her face was priceless.
What tip can you offer to other nail technicians?
My tip to any nail technician is to never give up and continue to learn.
You can find Amy Quinn on the web:
In the NAILPRO User Gallery: Nails to You
Facebook: Nails to You
Instagram: @nailstoyouhf
Tumblr: Nails To You
Nails to YOU Website: www.nailstoyou.webs.com
Click here for more Nailed Down! interviews »
Would you like to be featured in NAILED DOWN? Post images of your nail art to our User Gallery. We'll be highlighting outstanding artists based on those submissions! (minimum six pictures to qualify for consideration) NAILPRO reserves the right to edit submissions for length, grammar and clarity.