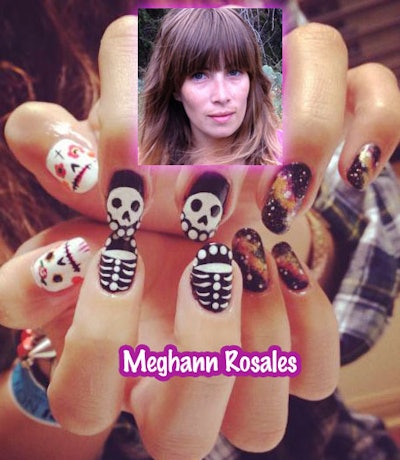 Welcome to NAILPRO's NAILED DOWN where we "nail down" the details of selected nail design artists from our User Galleries.
This week we visit Austin, Texas!
Meet Meghann Rosales:
Where do you work?
I am the owner of Nails Y'all, which does parties, events, and other fun collaborations around town. In addition, I recently took up residence at Paloma Botanical Beauty Parlour, where I take regular appointments for natural nail care and nail art.
How would you describe yourself?
I love art, my city, and a good Doris Day movie.
Tell us about how you got started in the nail industry.
My background is cartooning, and nail art is very similar. I draw tiny pictures in tiny panels. When I fell in love with nail art several years ago, I had a hard time finding someone locally who could do the designs I loved on my natural nails. So I decided to go to nail school in order to open my business. Now I get to draw all day and chat with rad ladies!
What/Who inspires your work?
I look to art, eye-catching and unusual color combos, tile floors, fabric, design blogs, vintage fashion and advertising – my phone is full of photos of random nail inspiration.
Do you have any tool(s) you can't live without?
I absolutely couldn't do what I do without my teeny-tiny striper brushes!
Do you have a favorite technique or style?
Currently, my favorites to create and to wear are galaxy nails. It's fun to see the layers come together to create one-of-a-kind solar systems! I also love painting portraits and characters. It connects me back to my cartooning roots. I always love trying out new techniques and designs (usually on my left hand).
What is your funniest/craziest nail story?
I can paint a mean womb! Recently I held a Wendy Davis-inspired nail art fundraiser, with the proceeds going to women's healthcare in Texas. I did approximately 40 manis over three days. Girls and guys chose from a menu of lady-inspired designs, and I ended up painting A LOT of tiny uteruses.
What tip can you offer to other nail technicians?
Take pictures and share them! People love to see nail art, both in process and the finished product. Take your art out into the community!
Anything else you'd like to add?
My clients are so fun and creative and constantly challenge me with their ideas for fancy nails. I feel so fortunate to have found a career, and a network, that encourages such enormous creativity on such a small surface.
You can find Meghann Rosales on the web:
In the NAILPRO User Gallery: Nails Y'all: hand-painted natural nails in Austin, TX–get fancy! and More Nails Y'all, y'all
Tumblr: Nails Y'All
Facebook: Nails Y'All
Instagram: @nailsyall
Paloma Botanical Beauty Parlour Website: www.palomabeauty.com
Click here for more Nailed Down! interviews »
Would you like to be featured in NAILED DOWN? Post images of your nail art to our User Gallery. We'll be highlighting outstanding artists based on those submissions! (minimum six pictures to qualify for consideration) NAILPRO reserves the right to edit submissions for length, grammar and clarity.