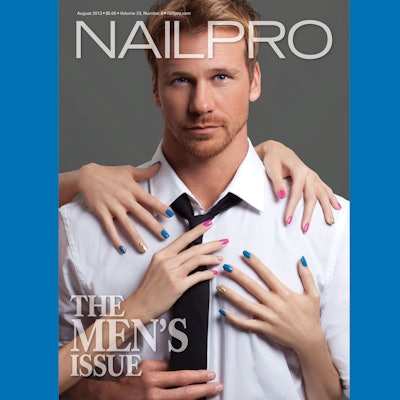 See what's in the August issue of NAILPRO! Our digital edition offers you everything in the print magazine PLUS live hyperlinks to products and advertisers as well as video and audio! Download the NAILPRO app from iTunes and read the digital edition on your iPod, iPhone, iPad and/or iTouch!
FEATURES
Make your greeting lead to more clients »
Proper Reception
CND launches new Salon-O-Vation program »
A Happy Union
NAILPRO's guide to must-have implements »
Tooling Around
Entice male guests by tweaking salon decor »
Sports Bar Crowd
Master men's nail products »
What a Guy Wants
Notable men of the nail industry »
Man Hunt
How personality influences salon decor »
What's Your Style?
ATTITUDES
Corsets on the runway & nail art »
Polished Look
Meet Richard Hurter, president of Kupa »
Beauty File
Ciel Nail Spa in Northridge, CA »
Savvy Salon
Ke$ha, Eve and Kylie Jenner's hot nails! »
Hollywood File
PRODUCT TALK
Coordinating nail lacquers and carryalls »
Perfect Pairs
VitaGel from Gelish and City Lights Sculpting Powder from Nouveau Nail »
Pro Talk
TECH-NIQUES
How to pamper and prime your male clients' hands »
Workshop
Approaching a client's drug-related skin rash with care »
Nail Clinic
Summer manicures get totally tubular with these surfer dude how to's! »
Art Gallery