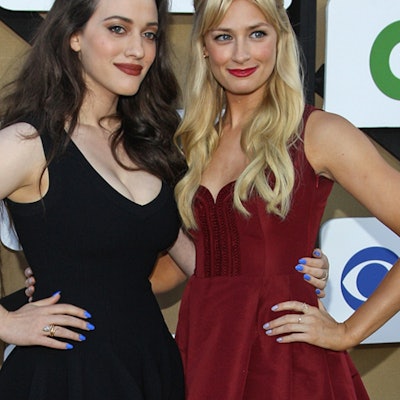 On the red carpet, jewel tones have been popping up alongside classic colors. Straying away from the traditional crimson and nudes we so often see on the tips of the elite, actresses lately are gravitating towards sparkly blues and bright pastels to pair with timeless Hollywood red, black, and lace. Putting aside dramatic jewelry, these stars have been accessorizing primarily with vibrant lacquer. See how they pull it off!
Kat Dennings and Beth Behrs
The 2 Broke Girls don't look so poor with opulent fingertips. Kat Dennings spices up a LBD with cyan nails that practically glow, contrasted with her bronze shoes and dark lip. Beth Behrs pairs her scarlet dress with silvery diamond-like polish, but doesn't forget the pop of color entirely: it's hidden in the blue and green iridescent sheen on her pumps.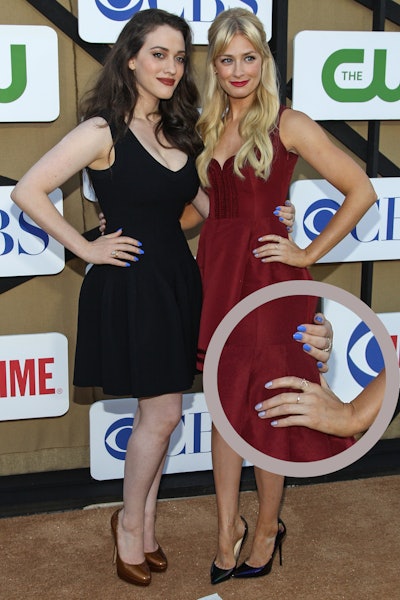 [Image: Getty Images Entertainment]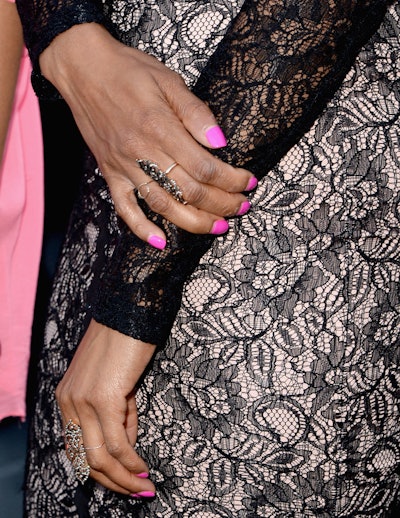 Tyra Banks
When the fashion icon arrived at the CW, CBS and Showtime Summer TCA Party, eyes went straight to these fuchsia pink nails. Otherwise dressed entirely in black, from her form-fitting lace dress and Walter Steiger onyx colored heels to her dark tasseled earrings, the bit of pastel was a welcome accent to her ensemble.
[Image: Getty Images Entertainment]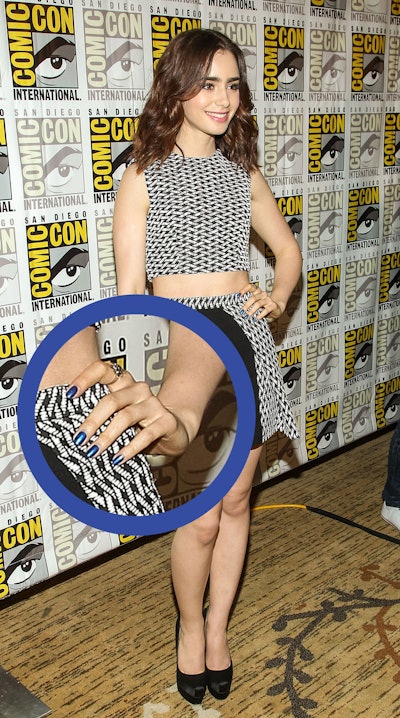 Lily Collins
Comic Con in San Diego was the event of the year for the "cool kids" of Hollywood, and they brought their style sense along with them. Lily Collins posed in matching black and white patterned shorts and top, making her look fairly monochrome until the light catches the sapphire hue painted on her nails.
[Image: WireImage]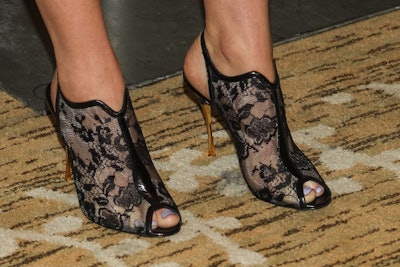 Jennifer Lawrence
Gearing up for the release of Hunger Games: Catching Fire in November, the starlet known for her role as Katniss Everdeen arrived at Comic Con with all eyes on her. Sporting an all black and white midriff-bearing outfit similar to Lily Collins, Jennifer Lawrence topped her image not with colored fingertips but with soft lavender toes that peek out of her lace booties. She doesn't leave it at that, though. The end of each nail is lined very thin in black, a minimalized take on a French manicure.
What do you think about the latest trend? Have your clients been attracted to similar colors?
[Image: WireImage]