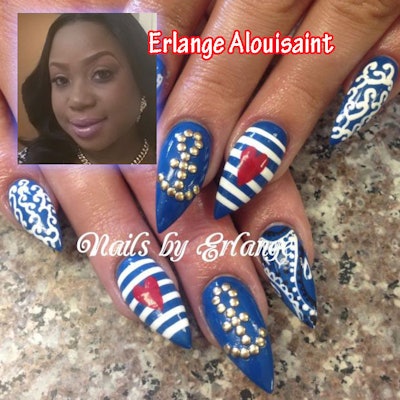 Welcome to NAILPRO's NAILED DOWN where we "nail down" the details of selected nail design artists from our User Galleries.
This week we chat with a nail tech who makes her home in two Southern cities: Atlanta, GA and Sunrise, FL!
Meet Erlange Alouisaint:
Where do you work?
I'm the owner of Glazed Hair & Nails Spa in Oakland Park, FL. I also work at Salon Ramsey in Atlanta, GA. I travel back and forth!
How would you describe yourself?
I am a thriving nail artist who has been licensed for 9 years and I'm in love with my profession. I would say that I am very down to earth, caring, honest, and a hard worker. I can be a bit of a perfectionist sometimes as well.
Tell us about how you got started in the nail industry.
Well, In 2004 I attended Broward College majoring in Health Information Management. One summer, after I had completed all of my prerequisites, I applied to get into the HIM program. I waited for about a month for a response from the Health Program at the school. When I noticed that I hadn't gotten a response, I called the school. That's when I was informed that I wasn't accepted into the program because my GPA didn't meet the requirements. At the time, my GPA was at a 2.3. The required GPA to get into the program was 2.5. However, when I had submitted the program application, it stated that the required GPA was a 2.0. Unfortunately, a new head of the Health Program came on board in the middle of the summer and changed the requirements to get into the Health Programs. I got really upset and quit school. But then I noticed that there was a beauty school called Margate School of Beauty down the street from the college. So I walked in there and asked, "what is the shortest program that you offer?" And they said the Nail Technician Program. So I said, "Where do I sign up!" At that time, I had zero knowledge about nails. But once I started, I fell in love.
What/Who inspires your work?
I'm inspired by a few people that I follow on social networks like Poochie, Mindy Hardy, Kandiyamz, and Nails by Regina.
Do you have any tool(s) you can't live without?
I can't go without my stripper art brush, my cuticle cleaning brush, my emery board, and my drill.
Do you have a favorite technique or style?
My favorite technique is using the one ball method when applying acrylics on nails.
What is your funniest/craziest nail story?
My craziest nail story happened about 6 years ago. It was a really busy day at the salon. I was doing a full set of acrylics on a client. When I went to fill my dapping dish, I used acetone instead of monomer. I was so busy that I didn't even notice what I had done until I went to file the nails and they felt like rubber. I sat back confused. Then I back tracked to think about what I had done differently, and that's when I realized what I did. I told my client and she laughed and said, "It's okay, I know you've had a long day." That's one of my craziest/funniest moments!
What tip can you offer to other nail technicians?
I would say to never stop learning and educating yourself about the nail industry. Keep up with all the new products, styles, and techniques.
Anything else you'd like to add?
I would like to add that it is my dream to grow tremendously in the nail industry. And I would love to have the opportunities to work with celebrities, work on sets of commercials, movies, music videos, and photo-shoots for magazines.
You can find Erlange Alouisaint on the web:
In the NAILPRO User Gallery: Glazed Nails by Lady E
Instagram: @lady_e_nails
StyleSeat: Nails by Erlange (Lady E)
Click here for more Nailed Down! interviews »
Would you like to be featured in NAILED DOWN? Post images of your nail art to our User Gallery. We'll be highlighting outstanding artists based on those submissions! (minimum six pictures to qualify for consideration) NAILPRO reserves the right to edit submissions for length, grammar and clarity.