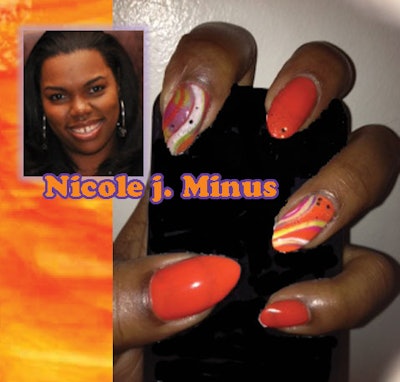 Welcome to NAILPRO's NAILED DOWN where we "nail down" the details of selected nail design artists from our User Galleries.
This week we visit Philadelphia, Pennsylvania!
Meet Nicole j Minus:
Where do you work?
I'm a freelance nail tech who works under Nails By Nicole j and I do a lot of corporate events for different companies.
How would you describe yourself?
I am a wife and mother of 3 who is hardworking, very respectful, and who loves spending time with family and friends! I am a giving and fun-loving person who will always be there for my loved ones. I'm a strong woman who "don't take no mess!" and at times can be very outspoken! LOL! Sometimes people don't like that (my mom tells me), but overall, I am a good person.
Tell us about how you got started in the nail industry.
I always had an interest in hair and nails since I was little girl (remember Lee Press-on?) But it didn't really come to light until I was so tired of just having a "job" that I wanted a career. So I asked myself, "what do you really LOVE doing?" and I remembered when I was in high school and I took cosmetology where I was always doing nails. I remembered the nail tech who lived in my neighborhood named Carol White, who was so talented. I would watch her and mimic her designs just to see if I could do them, and I did! Not to mention that I got my hands on a NAILPRO magazine and was hooked! So I decided right then and there that I would go back to school for nails. That was 2002. I enrolled in American Beauty Academy for the manicuring course, but had to stop halfway through the course because I became pregnant and couldn't take all of the smells from the chemicals. I took some time off, had my daughter in 2003, and then went back in 2004 and finished the course. And here I am!
What/Who inspires your work?
My family inspires me. Sometimes things get overwhelming, but I look to them. And I have to keep going because quitting in NOT an option! I also love looking at all of the fabulous work of my fellow techs. That inspires me! I think we are some talented individuals and need to support one another!
Do you have any tool(s) you can't live without?
My tools I can't live without are my cuticle pusher, buffer and my nail art and gel brushes.
Do you have a favorite technique or style?
I love colors so for me, nail art is my favorite! Lately I really love gel polish carving technique. I like to call it the "peekaboo design" because you see the different design peeking thru your carving.
What is your funniest/craziest nail story?
One of my funniest and craziest moments was when I was at my client's house and she asked me if I'd do her sister's manicure and pedicure while she was here from New York. So I said yes, of course. As I'm finishing up her polish, she looks down and says, "Wow I really love them, and they're all the same shape!!!" l laughed and said, "Well, where you usually go, don't they shape them the same?" And she laughed and said no! I couldn't believe it.
What tip can you offer to other nail technicians?
I would tell them, if something is difficult for you, as far as nail art, pink & whites, acrylic or gel techniques etc., don't give up! Keep practicing and take classes, and don't let anyone tell you that you can't do it, because you CAN do it! Practice is the key and you can do anything you set your mind to!
Anything else you'd like to add?
I just want to say thank you to NAILPRO Magazine for featuring me, I so appreciate this! But I also want to thank all of the veteran nail techs who have given me advice on the business and techniques, and just opening their arms and sharing their experiences and time with me. I will forever be grateful!!
You can find Nicole j Minus on the web:
In the NAILPRO User Gallery: Nail Styles by Nicole j and Nails by Nicolej
Facebook: NailsBy Nicole J
Twitter: Nails by Nicole j
Click here for more Nailed Down! interviews »
Would you like to be featured in NAILED DOWN? Post images of your nail art to our User Gallery. We'll be highlighting outstanding artists based on those submissions! (minimum six pictures to qualify for consideration) NAILPRO reserves the right to edit submissions for length, grammar and clarity.