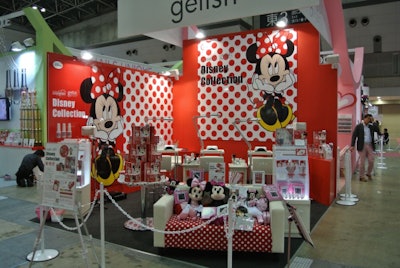 Beautyworld Japan, the largest beauty and spa trade show in Tokyo, Japan recently hosted Gelish Soak-Off Gel Polish at the Tokyo Big Sight International Exhibition Center from May 13 to 16 with a record-setting number of 58,564 attendees.
At the show, official Japanese Gelish distributor Nails Unique of Japan welcomed guests to a brightly lit booth that displayed the most recent Disney collection, with a red and white polka-dot themed setting to tie into the packaging. At the Gelish Peanuts booth, attendees were greeted by friendly staff of nail technicians and Belle, Snoopy's sister who is the face of the Peanuts collection.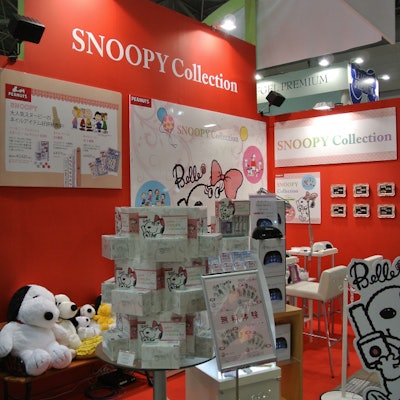 "The Japanese market adores both Peanuts and Disney, so by combining their love of both animated families, along with their love of all things gel and manicure, we knew we had a huge hit on our hands," says Gelish CEO and founder Danny Haile. "The line at the Gelish Disney booth was out the door and everyone was so excited…I loved talking to all of the guests and hearing their feedback."
Attendees also received a special sneak peak at the Morgan Taylor Nail Lacquer collection for the very first time at Beautyworld Japan. The collection of nail lacquers, which is known for high quality raw materials and ingredients, was also a huge hit at the professional trade show. "The collection was very well received by the attendees," says Haile. "Because the Japanese market is very  aware of high-quality products, they can truly appreciate the time, effort and ingredients that went into creating the line."
About Beautyworld Japan
Japan's largest beauty trade fair offers an ideal business platform of the beauty and spa industries. Since its start in 1998, Beautyworld Japan has been recognized by all the professionals of the beauty and spa industries as the most important event for encountering innovative products & information, along with the latest trends in Japan.  
About Gelish
Gelish. Done Right. From the start. As a professional nail artist, CEO & Founder Danny Haile understands that nothing is more important than the tools of the craft. Nothing is more challenging than product inconsistencies. Because of this, quality has been and will always be the #1 priority. Gelish is the first brush-in-bottle gel polish ever invented, with a United States and international patent-pending formulation to prove the fact. For more information, please visit 
www.gelish.com
.
[Images: Hand and Nail Harmony/Gelish]