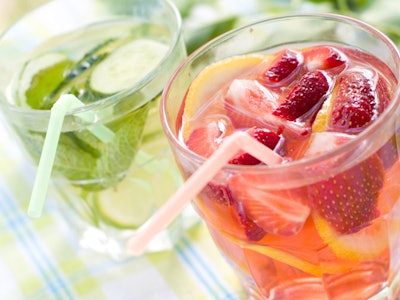 The summer heat can be intense and cruel, even when hiding under a blast of AC. When clients arrive at your salon, keep them cool and refreshed by offering up some tasty beverages. And don't worry, you won't need a liquor license to relieve your clientele – here are four nonalcoholic drinks that are sure to please everyone.         
Horchata: Everyone's Favorite Latino Liquid
Mix up a batch of horchata for a sweet and creamy way to satisfy your clients.     
How to Do It: Rinse ¾ cup rice in a colander and then place in a blender, adding enough water to cover the rice by an inch. Let it soak for five minutes before adding two teaspoons (or a 1 inch stick) of cinnamon and 1½ teaspoons of vanilla.  Blend the mixture until it is ground. Drain the liquid through the colander and into a pitcher.  Put the ground rice back into the blender, adding with it ½ a cup of condensed milk and 2 cups of water. Blend it again and then drain it into the pitcher, throw out any remaining rice. Add water until it has the right sweetness level for you. Add ice and enjoy.
Lime Zing: Because Lime Sounds So Much Better Next to Zing
When it comes to cooling down with drinks, lime is almost always a requirement. There's something about its citrusy sourness mixed with the dullness of tea that keeps us coming back for more.
How to Do it: Add peeled lime slices to a pitcher of red tea, then pour the combo into a blender. Add ice, blend and enjoy.
Fruit Suds: A Healthy and Refreshing Spin on Plain Water
The combination of fruit and mineral water is not only refreshing, but looks like a fancy drink – despite being a breeze to make!
How to Do it: Chop up your favorite fruit – try strawberries, melon, apples and more – and add it to a glass (or pitcher) of mineral water. Then stir and you're done!
Shirley Temple: Enough Said
This Classic needs no introduction. The mixture of coke, grenadine and cherries will make your client so happy that she might end up skipping out of the salon.
How to Do it: Pour Coke, Sprite or any other soft drink into a glass with ice. Pour 1 ounce of grenadine into it and then stir. Top the drink with a cherry and then add your favorite squiggly straw. Drink up to feel like you're eight again.
[Image: Thinkstock]