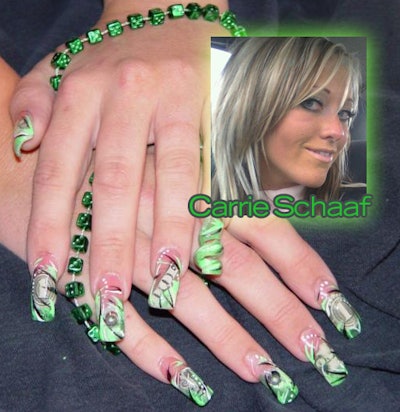 Welcome to NAILPRO's NAILED DOWN where we "nail down" the details of selected nail design artists from our User Galleries.
This week we visit Flint, Michigan!
Meet Carrie Schaaf:
Where do you work?
Wild Side Spa
How would you describe yourself?
I am creative, positive, and enthusiastic about my craft. I pride myself in my professionalism and customer service.
Tell us about how you got started in the nail industry.
I got started in 2010 after working as a certified teacher for two years. I was always passionate about nails and wanted to pursue that career in addition to teaching. I am currently taking steps toward becoming a nail educator with a product line.
What/Who inspires your work?
My work is inspired by my clients and their unique personalities and moods. I am inspired by current fashions and trends as well.
Do you have any tool(s) you can't live without?
I can't live without my CND #6 Gel Brush, my dotting tool, and a thin black striper paint.
Do you have a favorite technique or style?
I love nail art! I love showing my clients the versatility other services like CND Shellac and acrylic enhancements can have by embellishing them with custom hand painted designs.
What tip can you offer to other nail technicians?
Don't be afraid to experiment. You never know what kind of interesting, beautiful looks you can achieve by trial and error. I am so thankful for my brave clients who will let me try my new creations on them!
You can find Carrie Schaaf on the web:
In the NAILPRO User Gallery: Simple Nail Designs, Long Nails & Abstract Art, Holiday Nails!
Carrie's Facebook: Carrie Schaaf Nail Design
Wild Side Spa's Facebook: Wild Side Spa
Pinterest: Wild Side Spa
Click here for more Nailed Down! interviews »
Would you like to be featured in NAILED DOWN? Post images of your nail art to our User Gallery. We'll be highlighting outstanding artists based on those submissions! (minimum six pictures to qualify for consideration) NAILPRO reserves the right to edit submissions for length, grammar and clarity.