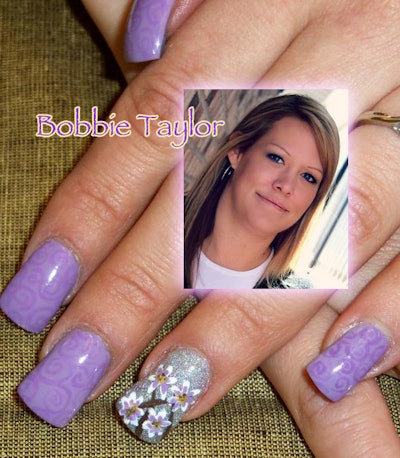 Welcome to NAILPRO's NAILED DOWN where we "nail down" the details of selected nail design artists from our User Galleries.
This week we visit Humboldt, Iowa!
Meet Bobbie Taylor:
Where do you work?
I am the owner and full time nail technician at Head 2 Toe Salon.
How would you describe yourself?
I would describe myself as a fun and creative person.
Tell us about how you got started in the nail industry.
I started doing nails on my sister when I was about twelve years old. My mom would go to K-mart and buy us those press-on nails and I would put all sorts of things on them. I started doing actual acrylic nails with art on girls I knew for prom and graduations about seven or eight years ago. I knew that this is what I loved doing and knew I wanted to do it full time, so I went to school and got my license. I now own a salon and have never been happier.
What/Who inspires your work?
I am inspired by so many things. I sometimes gain inspiration from my clients, my kids, and sometimes just from the scenery when I am driving.
Do you have a favorite technique or style?
I would say my favorite style or technique is hand painted nail art. There are very few things I do that are not hand painted.
What is your funniest/craziest nail story?
The funniest nail story I have would be when I was doing nail art on one of my regular clients and was tapping a bottle of silver glitter polish on the palm of my hand to stir it up. The corner of the bottle popped off and the silver glitter shot out over everything. We both had a good laugh and I learned to stir my polish my rolling it between my palms instead of tapping it on my hand!
What tip can you offer to other nail technicians?
A tip for other nail technicians is to schedule enough time to make your client feel like they are your number one. This way you don't make them feel like you are trying to rush to get them out. I client who feels like they are number one will continue to return.
You can find Bobbie Taylor on the web:
In the NAILPRO User Gallery: Nail's by Bobbie Taylor
Facebook for Head 2 Toe Salon: Head 2 Toe Salon
Facebook for Bobbie Taylor: Bobbie Taylor
Pinterest: Bobbie Taylor
Click here for more Nailed Down! interviews »
Would you like to be featured in NAILED DOWN? Post images of your nail art to our User Gallery. We'll be highlighting outstanding artists based on those submissions! (minimum six pictures to qualify for consideration) NAILPRO reserves the right to edit submissions for length, grammar and clarity.