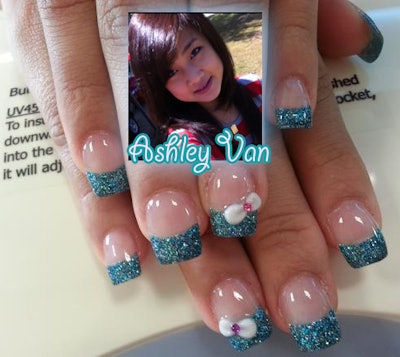 Welcome to NAILPRO's NAILED DOWN where we "nail down" the details of selected nail design artists from our User Galleries.
This week we visit Tupelo, Mississippi
Meet Ashley Van:
Where do you work?
I work at my mother-in-law's nail shop called "Pretty Nails."
How would you describe yourself?
I live and learn to get more experience. I'm friendly and I don't mind sharing all of my nail art with everyone. I love to create new designs. Making my clients satisfied and happy is my challenge.
Tell us about how you got started in the nail industry.
After I finished school, I started working for my family's nail shop and then I got my license. I been doing nails for 5 years. I learn a lot from my family and others. It's a big part of my life and I'm loving it!
What/Who inspires your work?
My family and friends inspire me a lot. They always comment on my work and give me new ideas. They are always there when I need them and support me.
Are there any tool(s) you can't live without?
My acrylic 16 & 18 brush, small define drill and scissors.
Do you have a favorite technique or style?
Sculpture nails and different colors of acrylic power. Plus, 3D art with stones.
What is your craziest/funniest nail story?
One time I did full-service for a lady. While I was doing her nails, she kept pulling her hands back. I asked her if I'd hurt her. She didn't say anything, so I started getting nervous and scared. I'm trying to be more careful, and slowly kept doing her nails. Then when I was finished, I looked up and saw she'd fallen sleep. So I know she kept pulling her hands back not because I was hurting her, but because I was taking so long and she was falling sleep!
What tip can you offer to other nail technicians?
You have to be passionate about what you do. Don't give up easily, try to learn more, and especially respect your clients.
You can find Ashley Van on the web:
In the NAILPRO User Gallery: Girlly
Instagram: avnailartstyles
Click here for more Nailed Down! interviews »
Would you like to be featured in NAILED DOWN? Post images of your nail art to our User Gallery. We'll be highlighting outstanding artists based on those submissions! (minimum six pictures to qualify for consideration) NAILPRO reserves the right to edit submissions for length, grammar and clarity.