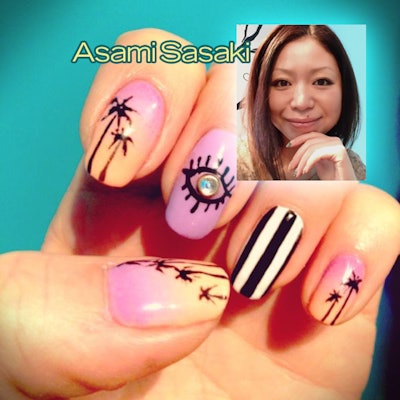 Welcome to NAILPRO's NAILED DOWN where we "nail down" the details of selected nail design artists from our User Galleries.
This week we go around the globe to Sapporo, Japan!
Meet Asami Sasaki:
Where do you work?
Turquoise
How would you describe yourself?
My nail art is always pursuing a fashion style. Good color matching, balance, playfulness, and little kawaii 😉
Tell us about how you got started in the nail industry.
I discovered the work of a nail artist 19 years ago. In Japan, nail salons in those days were unusual. There were almost no nail schools, and there was almost no material. I had very little material, NAILPRO, and English dictionaries. I studied operating methods. My artwork attention now is dreamlike!!!!
What/Who inspires your work?
All fashion, all artworks!
Are there any tool(s) you can't live without?
Super thin long liner brush!
Do you have a favorite technique or style?
Gel nails, nail art, all gel paints.
What tip can you offer to other nail technicians?
Do your favorite nail art!!! It becomes good nail art by balancing what is trending in color or design.
You can find Asami Sasaki on the web:
In the NAILPRO User Gallery: Soft Gel Design
Salon Website: www.turquoise-nail-jewelry.com
Facebook: Turquoise
Click here for more Nailed Down! interviews »
Would you like to be featured in NAILED DOWN? Post images of your nail art to our User Gallery. We'll be highlighting outstanding artists based on those submissions! (minimum six pictures to qualify for consideration) NAILPRO reserves the right to edit submissions for length, grammar and clarity.