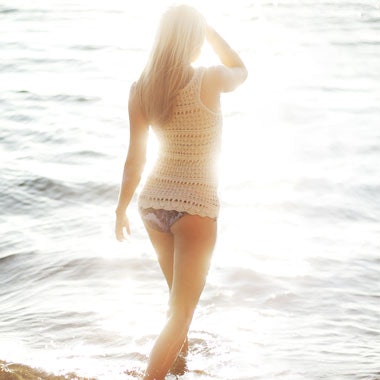 What's the hottest accessory each and every summer? Bronzed skin that glistens as you walk on the beach or sit poolside. Gone are the tanning creams of yesteryear with their orange-y tints, replaced with safe and effective self tanners that you can spray, airbrush, or smooth on via foam, gel or lotion. Skip the tanning bed and follow these tips from Julie Nostrand, owner of South Seas Skin Care, for a gorgeous glow all summer long.
• Ready, Set, Prep. Before you apply any self or spray tanner, exfoliate your skin with a body scrub to remove dry skin cells which will help the tan adhere better to your skin. "It is even more important to wear loose clothing after," Nostrand continues. "Tight clothing tends to remove the tan before it has a chance to develop, about six to eight hours." Avoid getting your hands wet as this will stop the tan from activating, however if you do have to wash your hands, use a touch-up spray tanner so they're not lighter than the rest of your body; we recommend South Seas Tahitian Tan Mist for an even tan that's easy to apply.
• Less is really more, unless you're hanging out with Snooki or JWoww (although regardless of how much you apply, you'll probably still look pale). "For spray tans, always apply lighter on hands and feet," says Nostrand. "More product will produce a darker color but may result in blotchiness or a tan that does not look natural." For people with lighter skin, that could mean more of an orange glow. Self or spray tanning applications usually last a week on your body, and less on hands, face and feet.
• First time self-tanner? "Self tanning lotions can be tricky to apply so if you are using a self-tanning lotion for the first time, you might want to dilute it 50% with regular body lotion to avoid streaking as well as moisturize dry areas that might soak up more product," advises Nostrand. When you're finished applying, use a damp washcloth to wipe the insides of your hands and in between the webs of your fingers.
• Shhh! Here's our secret tip! Since spray tans don't cover your scalp, and for those of you who are naturally pale, use an eye shadow that matches your hair color to darken your scalp and eliminate harsh "tan" lines for a more natural look.
[Image: Wikimedia Commons/Mike Monaghan]