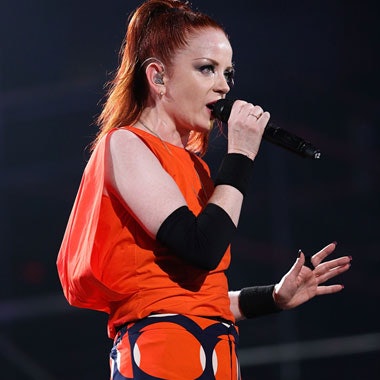 Shirley Manson, lead singer of rock band Garbage recently visited Artistic Nail Design® lead educator Zoe Vokis for a complete nail makeover on her recent trip to Sydney, Australia. Vokis gave Manson a full set of brand new Artistic Rock Hard Nail tips – the revolutionary nail enhancement technology that will be available in April.
 
"Artistic Rock Hard Nails is my product of choice when doing enhancements,"  stated Vokis. She also thought it was ironic that the Manson looked so similar to the imagery featured in the advertisement, so she decided to show her the photo.  Manson "absolutely loved it," says Vokis.
 
Manson was in need of an infill, so Vokis decided on a combination of Artistic Rock Hard Nails Liquid and Powder that she was lucky enough to receive at a recent level 2 training. After reshaping her stiletto nails, she performed the infill and completed the service with Artistic Nail Design Colour Gloss in Sultry – a bright, orange hue from the upcoming What Kind of Woman Are You? Summer Collection.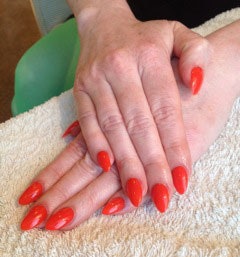 [Shirley Manson image by Victor Chaves/Getty Images Entertainment; nails image courtesy of Artistic Nail Design]