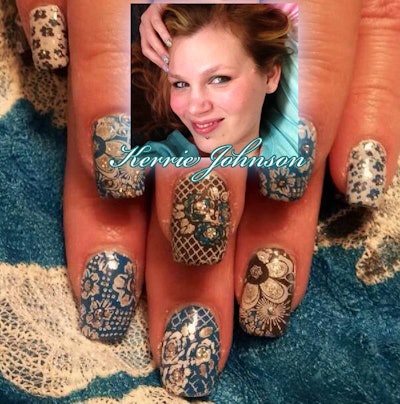 Welcome to NAILPRO's NAILED DOWN where we "nail down" the details of selected nail design artists from our User Galleries.
This week we visit Redkey, Indiana!
Meet Kerrie Johnson:
How would you describe yourself?
I am a unique person with the ability to create beautiful manicures using the nail stamping technique.
Tell us about how you got started in the nail industry.
Three years ago I wanted to paint the Mountain Dew logo on my nails and it was a huge fail. Through YouTube I discovered you could print the logo. So for my birthday, I received a Barbie nail printer and printed all of my manicures. That is when I discovered Konad. For three years I have been nail stamping not only my own nails, but family and friends as well. I decided a year ago or so to create a fan page on Facebook called Nailed It. I didn't know of the gazillion others that were already using the same name at the time. From there, I was invited to join other nail art groups and take a part in collaboration posts of themed manicures. The groups challenge you to try new techniques and grow into your art. I choose nail stamping for the variety of options available. There are more and more nail art/beauty businesses that are listening to the consumer and giving them what they want. These companies reach out to bloggers and nail art Facebook groups to get their reviews and build clientele.
This spring I will be attending The Salon Professional Academy in Anderson, IN to be a certified nail technician. Once certified, I will join the team at Glam Studios in Dunkirk, IN where I can bring nail stamping to their salon and further grow the love of nail art!!
What/Who inspires your work?
I am inspired by prints and patterns! The one who inspires me the most is Gina Soguesswhat11 on YouTube. I would love to make videos like hers.
Are there any tool(s) you can't live without?
Seche Vite Dry Fast Top Coat 4oz. bottle, stampers, plastic scrapers, and of course, nail stamping plates.
Do you have a favorite technique or style?
Nail Stamping
What is your craziest/funniest nail story?
I don't have one as of yet, but I am sure that's going to change now that I said that!
What tip can you offer to other nail technicians?
Do not give up doing what you're passionate about. You can overcome the obstacles by reaching out to others in your network.
You can find Megan Marsh on the web:
In the NAILPRO User Gallery: Simply Neat Designs
Facebook: Simply Neat Designs – Nailed It
Pinterest: Kerrie Johnson – Idol Woman
Click here for more Nailed Down! interviews »
Would you like to be featured in NAILED DOWN? Post images of your nail art to our User Gallery. We'll be highlighting outstanding artists based on those submissions! (minimum six pictures to qualify for consideration) NAILPRO reserves the right to edit submissions for length, grammar and clarity.