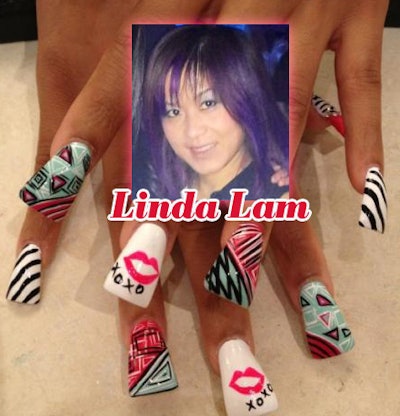 Welcome to NAILPRO's NAILED DOWN where we "nail down" the details of selected nail design artists from our User Galleries.
This week we visit Sewell, New Jersey!
Meet Linda Lam:
Where do you work?
I am the owner of J'adore Nail & Spa
How would you describe yourself?
I am a very easy going person, but when it comes to work, I am very picky and a perfectionist – especially regarding my nail design. I love to challenge myself, so I've never denied any custom nail art that my clients want me to create for them. Sometimes, I get nervous and scared that I won't be able to do the custom designs, but I always accomplish my work!
Tell us about how you got started in the nail industry.
I've always done my own nails since I was young (only polish). I had no clue about acrylic nails, gel nails or other kinds of nail art. I always thought that when you go get your nails done professionally, it's only a manicure and that's it. Back then, nails were not that popular. I really discovered the nail industry when I met my husband 12 years ago. In 2001 I went to a nail salon for the first time, and it was his workplace. I was amazed! I kept looking around at how they applied the acrylic, polish, design, airbrush, etc. I was like "OMG, this is so cool! I want to try to do it!" That's when I started in the nail business.
What/Who inspires your work?
My mood and my clients are the key to my inspiration. Most of my designs can tell you how I feel. My clients inspire me because I want give them my best work. I go with their moods, too.
Are there any tool(s) you can't live without?
Is your hand a tool? I can't live without my right hand and my creativity! LOL. Plus, nail art polish, brush and others.
Do you have a favorite technique or style?
I love freehand and doing my designs in any style.
What is your craziest/funniest nail story?:
I had a client come to me for a set of nails with a crazy design. She told me to create something cool and different. So I did. She was so exited and loved her nails. When I told her how much it cost, she was like "I don't have the money. I just have $25 for the full set!" I didn't even quote her what I was supposed to for the work. I told her she can pay with a debit or credit card and she said she didn't have either one. So I asked, "what do you want me to do now?" She said, "I guess you have to take off the design and I'll just give you $25 for the set." Was that crazy or what? It took me a while to create that design. I told her, "come back later when you have the money." A couple of weeks later, she actually came back to pay me!
What tip can you offer to other nail technicians?
Don't be scared to express yourself through your nail art. Be positive and have confidence!
Do you have anything else to add?
Don't afraid to create. Just let your mind explore and you will see how far you can go.
You can find Linda Lam on the web:
In the NAILPRO User Gallery:
Twitter: @jadorenailspa
Instagram for Salon: jadorenailandspa
Instagram for Linda: nailsbylinda
Click here for more Nailed Down! interviews »
Would you like to be featured in NAILED DOWN? Post images of your nail art to our User Gallery. We'll be highlighting outstanding artists based on those submissions! (minimum six pictures to qualify for consideration) NAILPRO reserves the right to edit submissions for length, grammar and clarity.