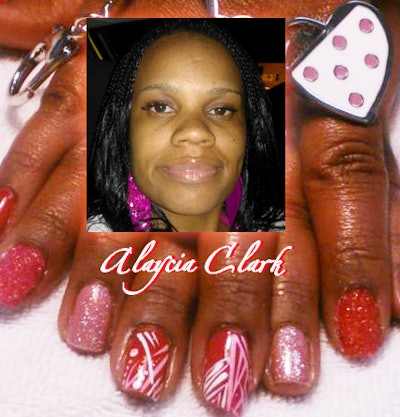 Welcome to NAILPRO's NAILED DOWN where we "nail down" the details of selected nail design artists from our User Galleries.
This week we visit Euclid, Ohio.
Meet Alaycia Clark:
Where do you work?
I'm an independent contractor at Candy Shop Nails.
How would you describe yourself?
I would describe myself as a perfectionist, artistic, persistent and hard working.
Are there any tool(s) you can't live without?
A file and my cuticle pusher.
Who/What inspires your work?
My children are my inspiration, as well as searching on the internet for new ideas.
You can find Alaycia Clark on the web:
In the NAILPRO User Gallery: Alaycia Nails
Click here for more Nailed Down! interviews »
Would you like to be featured in NAILED DOWN? Post images of your nail art to our User Gallery. We'll be highlighting outstanding artists based on those submissions! (minimum six pictures to qualify for consideration) NAILPRO reserves the right to edit submissions for length, grammar and clarity.