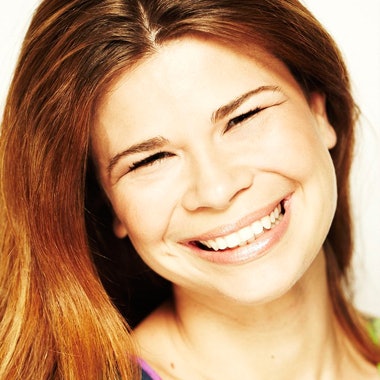 Julie Kandalec, one of New York City's most renowned manicurists, will appear on the Thursday, January 17, 2013 episode of TLC's hit show, What Not To Wear (10-10:30 p.m. EST). Julie is the first manicurist to ever appear on the show.
"I'm thrilled to be included in this episode of What Not To Wear," said Julie. "I first met Stacy London at a magazine photo shoot, and did all of the nails in her book, The Truth About Style, including the cover, her nails and all subjects in the book. When the producer for the show called, I was overjoyed!"
The episode featuring Julie was filmed in July. The subject, Tristin had nails that needed to be "made over" but Julie had no idea to what extent. She brought a suitcase full of 150 polishes, gel, gel polish, acrylic, nail art, everything. And everything needed to remove it too.
"I was nervous yet excited," continues Julie. "What Not To Wear is one of my favorite shows and I appreciated the opportunity to show America that nails are just as important as hair and makeup. In fact, this was the first time a manicurist had EVER been on the show. This is a big deal for the nail and beauty industry!"
After discussing what they had in mind for Tristin's nails – it was more of a make-under – Julie had the freedom to do what she wanted.
I had no idea what to expect. I've been doing nails for 16 years and have pretty much seen it all – except what was before me. This shape of nail I had never seen before, not to mention the color!"
It took Julie 5 hours to do Tristin's nails. She can't disclose the final look (tune in to see!), but she used Entity acrylic and Butter London polish in Primrose Hill Picnic, and nail jewelry from Tokyo.
"Tristin was very nervous and anxious about having her nails "the same as everyone else" but she was extremely happy when we were finished," Julie continues. "We even talked about me doing her nails in the future."
Tune in Thursday, January 17, 2013 at 10 p.m. to see the before and after, and Julie in action.
[Image courtesy of J9 PR]