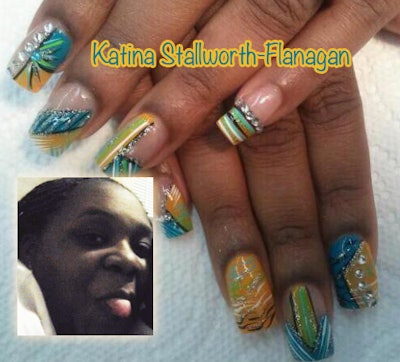 Welcome to NAILPRO's NAILED DOWN where we "nail down" the details of selected nail design artists from our User Galleries.
This week we visit Las Vegas!
Meet Katina Stallworth-Flanagan:
Where do you work?
Classy Claws Nail Salon.
How would you describe yourself?
Friendly!
Tell us about how you got started in the nail industry.
I was just at home and thinking that I was tired of working for someone else and working the graveyard shift. I wanted two be my own boss and make my own hours so I could spend more time with my family. Nails had the shortest school hours! After working in a salon, I actually loved doing it and have been doing nails now for seven years.
What/Who inspires your work?
My customers. I usually do something that matches their personality.
Are there any tool(s) you can't live without?
My Striper Brush. I love it!
Do you have a favorite technique or style?
Freestyle.
What tip can you offer to other nail technicians?
Do whatever comes to mind and you'll be amazed by what you get.
You can find Katina Stallworth-Flanagan on the web:
In the NAILPRO User Gallery:
Yelp: Classy Claws Salon
Click here for more Nailed Down! interviews »
Would you like to be featured in NAILED DOWN? Post images of your nail art to our User Gallery. We'll be highlighting outstanding artists based on those submissions! (minimum six pictures to qualify for consideration) NAILPRO reserves the right to edit submissions for length, grammar and clarity.