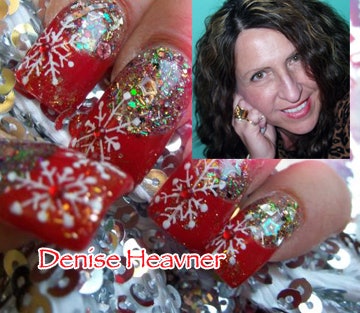 Welcome to NAILPRO's NAILED DOWN where we "nail down" the details of selected nail design artists from our User Galleries.
This week we visit Jefferson, Ohio.
Meet Denise Heavner:
Where do you work?
I'm not currently working in any salon at the moment. Just at home doing my nails, family and friends.
How would you describe yourself?
I'm happily married, friendly, bold, outgoing and daring – especially when it comes to nails. I love to wear nails that are different and make people look twice. I consider doing nails as a form of art and a creative outlet for me.
Tell us about how you got started in the nail industry.
I've been interested in nails since I was a little girl. A lot of what I have learned is self taught. It wasn't until meeting my current husband, Art, that I was finally able to achieve my dream and become licensed as a nail tech.
What/Who inspires your work?
My inspiration comes from many different things. From my inner thoughts, colors, my favorite things, and from the nail women of YouTube.
Are there any tool(s) you can't live without?
I cannot live without my acrylics and brush, electric file, and nail spangles (decos).
Do you have a favorite technique or style?
My most favorite technique has got to be acrylic encapsulations. (inlaid designs) I also love to paint nail tips in different designs before applying them to the nails.
What is your funniest/craziest nail story?
The funniest nail story for me would be when I was about 5. I painted my nails red – which included not only my fingers, but also the floor around me. I thought I did a good job. I don't think my dad thought so. He didn't have any nail polish remover, so he had to take me to the garage and use gasoline to remove the polish!
What tip can you offer to other nail technicians?
Nothing builds self-esteem and self confidence like accomplishment.
You can find Denise Heavner on the web:
In the NAILPRO User Gallery: Bold and Beautiful Nails By Denise Heavner
Pinterest: Denise Johnson-Heavner
YouTube: Tissue Paper Nails
Click here for more Nailed Down! interviews »
Would you like to be featured in NAILED DOWN? Post images of your nail art to our User Gallery. We'll be highlighting outstanding artists based on those submissions! (minimum six pictures to qualify for consideration) NAILPRO reserves the right to edit submissions for length, grammar and clarity.