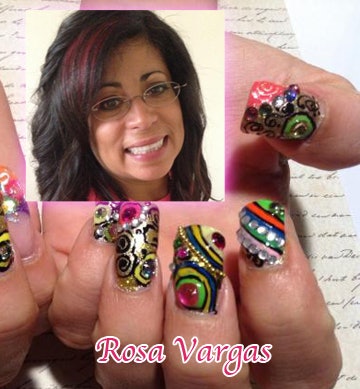 Welcome to NAILPRO's NAILED DOWN where we "nail down" the details of selected nail design artists from our User Galleries.
Meet Rosa Vargas:
Where do you work?
I'm a mobile tech and work freelance.
How would you describe yourself?
I'm a very fun person. When it comes to nails, I take it very seriously. I give it my 100%.
Tell us about how you got started in the nail industry.
It was a hobby that became my passion to do more and more. It gives me the opportunity to express myself through the nails, to be able to create. My work speaks for itself. It's my walking art.
What/Who inspires your work?
My family has inspired me a lot. The famous Robin Moses, and going through fashion and nail magazines.
Are there any tool(s) you can't live without?
My P.N.I. drill, my acrylic 12 brushes and my pink nail tip cutter.
Do you have a favorite technique or style?
Doing it the way I was taught in school: from the bottom tips of the nail, in three balls of acrylic, then working my way up to the cuticle.
What is your craziest/funniest nail story?
Trying to compete with other nail techs in class and trying to be first.
What tip can you offer to other nail technicians?
Really listen to your client's requests. Also, giving them your input when deciding on a theme for their nails for a particular occasion. The outcome of the work will be priceless to them and greatly appreciated. Take your time. This is our walking art on their nails, so listen to the clients!
You can find Rosa Vargas on the web:
In the NAILPRO User Gallery: Polka Dots and Rosa Vargas 2013 Nails
Facebook: Rosa Vargas Nails
Pinterest: Rosa Vargas
Instagram: nailsbyrosavargas
YouTube: rosielena965
Click here for more Nailed Down! interviews »
Would you like to be featured in NAILED DOWN? Post images of your nail art to our User Gallery. We'll be highlighting outstanding artists based on those submissions! (minimum six pictures to qualify for consideration) NAILPRO reserves the right to edit submissions for length, grammar and clarity.