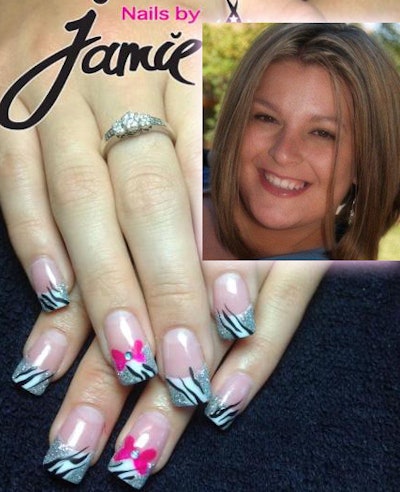 Welcome to NAILPRO's NAILED DOWN where we "nail down" the details of selected nail design artists from our User Galleries.
This week we visit Eugene, Oregon.
Meet Jamie Duffield:
Where do you work?
I am the owner of NV Salon and Spa
Tell us about how you got started in the nail industry.
I started my nail career in 2007 as "Nails by Jamie," leasing a station as an independent contractor inside of a local nail salon. Within a year, I had built a strong enough clientele to open my own little shop which has grown into NV Salon (a full service salon) where I now have six Independent contractors working for me. My business is thriving despite the weak economy and I have some of the most talented artists in both hair and nail design in Oregon. We all regularly attend trendy hair and nail shows and are preparing to compete nationally in 2013!
Are there any tool(s) you can't live without?
Paint brush and acrylic paint.
What tip can you offer to other nail technicians?
Prepare to work hard, network, educate yourself constantly and be willing to give away some "freebies"!
You can find Jamie Duffield on the web:
In the NAILPRO User Gallery:
Twitter: @nailpro97401
Click here for more Nailed Down! interviews »
Would you like to be featured in NAILED DOWN? Post images of your nail art to our User Gallery. We'll be highlighting outstanding artists based on those submissions! (minimum six pictures to qualify for consideration) NAILPRO reserves the right to edit submissions for length, grammar and clarity.